Actor Larry Lamb cooked and served dinner for people experiencing isolation and homelessness as part of a final year project by Bournemouth University (BU) students.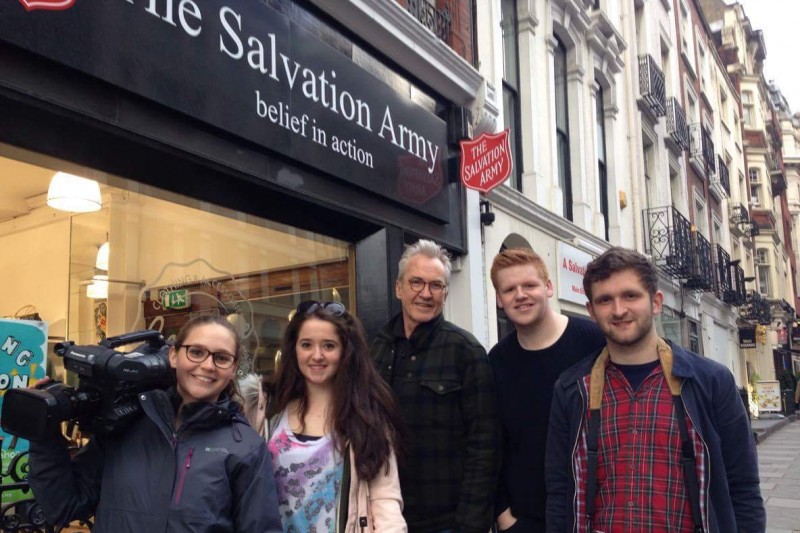 A team of TV Production students filmed with the Gavin and Stacey star at the Salvation Army drop-in centre on Oxford Street, as part of their final year project – a cookery-talk-show style programme called Grab and Go.
BA (Hons) Television Production students Tim Mizon, Jessica Letitia Reeves, Hannah Drimer and Tom Gregory organised and filmed Larry cooking spaghetti bolognaise for staff and visitors at the Salvation Army's No 10 drop-in centre.
Tim said: "This film was my graduate project with Television Production. The idea was to have a celebrity give something back to the community with cooking and this is what I wanted as a VT through the main studio show.
"We were lucky to gain Larry Lamb for this. It was great to have Larry cook in a homeless shelter in Mayfair, he was just brilliant working with the clients and speaking and relating with them."
Between filming shots for the students' project, Larry talked to drop-in guests about his love of cooking – picked up from his grandmother – and shared anecdotes about his first jobs aged five, as 'official tea-maker in the house' and, aged seven, in his father's fish and chip shop peeling spuds. 
No 10 provides support to people experiencing isolation and homelessness in Westminster, with as many as 5,000 people visiting the drop in each year to seek support.
No 10's service manager, Annette Watts, said: "We're pleased we were able to share with Larry Lamb and the students recording their final project the valuable work we do as we offer compassionate support, practical help and a listening ear to people experiencing homelessness in Westminster."
The students also filmed a cooking demonstration with Britain's Got Talent star Demetrios Demetriou – one half of comedy dance duo Stavros Flatley – and a live audience in the HD TV studio on BU's Talbot Campus. 
You can watch the finished programme on the Grab and Go website