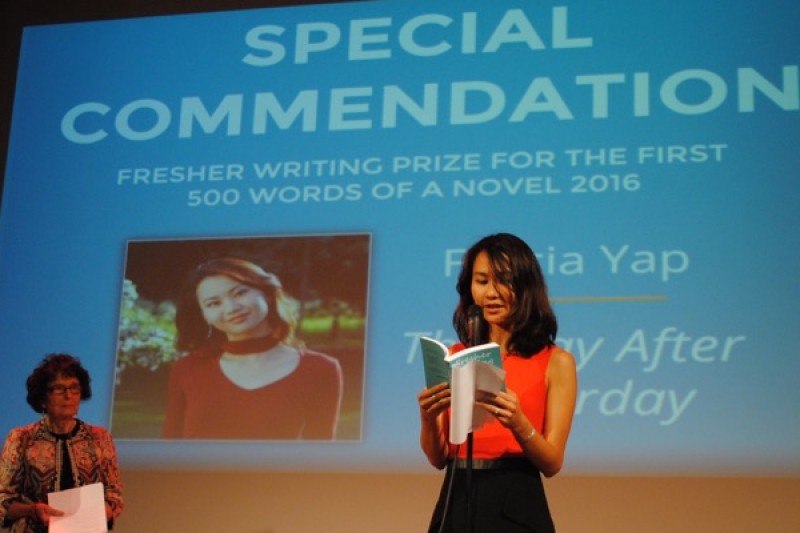 Bournemouth University's Fresher Publishing may only be in its third year, but its writers are already achieving great things.
At the Fresher Writing Prize awards recently, at the Shelley Theatre in Boscombe, it was announced that one of Fresher's shortlisted writers, Felicia Yap has now been signed by literary agents Curtis Brown. Her book, The Day Before Yesterday, has been bought by Headline for a six figure sum. 
The Fresher Writing Prize was established at Bournemouth University in 2014 to encourage and promote emerging writers, and to also give its students the opportunity to work on producing and launching the associated anthology. Since its inception a number of winners and shortlisted writers have gone on to success.
Last year's winner, Adam Blampied is one of writers-performers in The Beta Males, which have starred on Radio 4's Sketchorama, sold out The Soho Theatre and performed twice on Radio 4 Extra's Comedy Club. Last year's judge, then emerging author Claire Fuller, has since seen her book Our Endless Numbered Days win the Desmond Elliott Prize for debut novels and was a Richard & Judy Book Club pick for Spring 2016. Her second novel is due out in January 2017.
The Fresher Writing Prize winners for this year's Short Story and First 500 Words of a Novel categories were Hannah Persaud and Helen Dring. Prize judges, literary agent Madeleine Milburn, author Jeremy Page and Picador's editorial director Francesca Main, were all very excited by their two chosen winners and are looking forward to helping the writers take their work to the next level.
Fresher Publishing's editorial director Emma Scattergood said: "I've been delighted at how quickly the Fresher Writing Prize has grown and attracted such outstanding talent. We are really lucky to be supported by so many key figures in the publishing industry, and also to have a raft of talented and creative students who have done such a great job of working at the coalface. I am sure we will see many of them take up key roles in publishing in the future."
The Fresher Writing Anthology featuring all of the shortlisted writers can be bought via the website www.fresherpublishing.co.uk for £6 including postage. Next year's Fresher Writing Prize will open in the autumn.