BU final-year students showcased their work in both occupational therapy and physiotherapy at a conference at BU's new Fusion Building, where they exhibited their work and ideas around therapy practice in front of an audience of students and academics.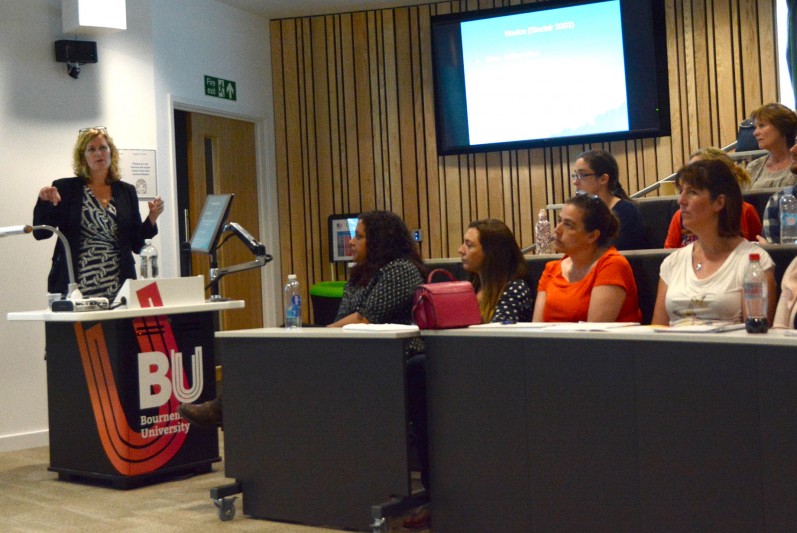 Keynote speakers also addressed the audience, including Professor Priscilla Harries, Head of Clinical Sciences at Brunel University London, who spoke about the different practice approaches between amateurs and experts, and Tim Cruse-Drew, a Physiotherapist who worked with Comedian Eddie Izzard to help him run 27 marathons in 27 days.
The speakers then came together to take part in a panel debate, after which Sophie Smith, BSc (Hons) Occupational Therapy Programme Leader at BU, and Carol Clark, Associate Professor and Head of Department for Human Sciences & Public Health at BU, closed the conference. Students presented posters describing either an innovation in practice, an understanding of the complexity of physiotherapeutic management approaches for people with multiple needs, or an emerging area of practice where physiotherapy is justified.
Carol Clark said: "It's been wonderful to sample some of the brilliant and innovative ideas put forward by our final-year BSc Physiotherapy and Occupational Therapy degree students at BU. The conference has looked at the importance of innovation in therapy practice, and how the scope and nature of practice are evolving to meet the dynamic context of health and social care provision.
"We were joined by colleagues from the NHS and private practice who have mentored students over the last three years. Everyone enjoyed the venue for the event in the new Fusion building which provided an excellent environment to showcase student's work.
"Not only have students this year exhibited some superb pieces of work at the conference, students have really showed that they are ready to make the step-up to professional practice, through their ingenuity and creative studies into the subject area. We'd like to wish them all of the very best in their future careers."
She added: "A big thank you should go to the dedicated programme staff who were involved in supporting the students education and in particular Dr Judith Chapman and Dr Clare Taylor who led the final unit."