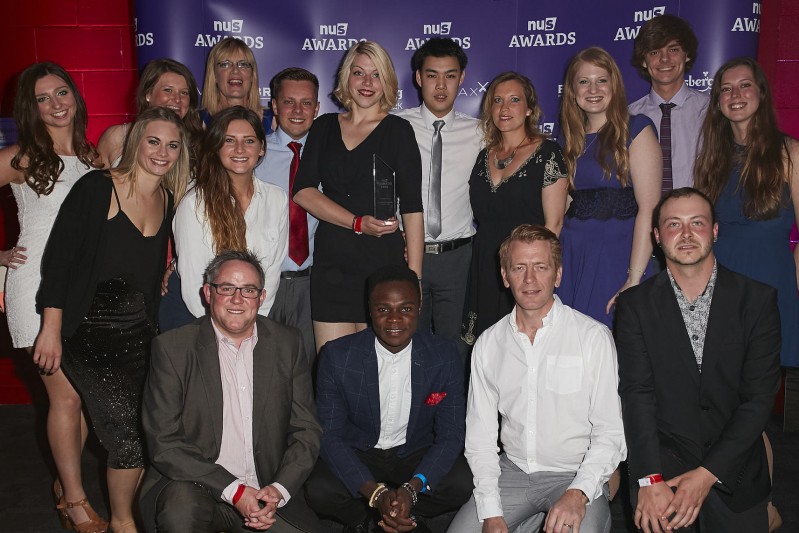 Students' Union at Bournemouth University (SUBU) are celebrating after winning two awards from three submissions at the annual National Union of Students (NUS) awards ceremony in Liverpool.
SUBU won the Education Award as well as being awarded the Gold in the Green Impact category, with sabbatical officers and SUBU staff members there to collect the prizes on the night.
The Education Award was won (beating Northumbria and Edinburgh respectively) for the enhancements made to the SUBU/BU student representative system, including the development of the new online feedback tool, SimOn, which is now being used by other unions in the UK. SimOn gives students a quick and easy way to provide feedback and become active partners in their education.
The Students' Union have also been working to give more responsibility to class representatives, appointed by SUBU for each class to give students a voice within the University and ensure that students on all courses have their say.
Ellie, SU VP Education (2014-2016) collected the Education Award, saying "We've put a huge amount of work into our rep system over the past year, changing reps from being survey pushers to engaging in face-to-face conversations with our students. It's amazing to have our hard work recognised on a national scale and to know that we have the best rep system in the UK".
The SUBU team were also awarded Gold in the Green Impact category for high environmental standards. Green Impact is NUS's environmental accreditation programme with over 100 Students' Unions now taking part across the UK. Jonathan Leung, SU VP Activities (2014-15), explained "We've put a huge effort into achieving this award since moving into the new Student Centre. The volunteering and green department has worked on being both sustainable and environmental and implementing changes that have helped the environment. We're aiming to achieve Green Impact Excellence over the next year and are encouraging any interested students to visit SUBU in the Student Centre to chat about their ideas."
SUBU were also nominated in the Students' Union of the Year category, which was won by Liverpool Guild of Students.
Alan James, General Manager for SUBU, summarised the team's success, saying "We're very proud of the achievements of our elected student reps and officers and to have been one of only five Students' Union's nominated for Students' Union of the year, being just 'pipped to the post' this year by Liverpool Guild of Students. The NUS Awards have completed an exciting and productive year for SUBU, our first full year in the new Student Centre building at BU".