A book full of insight and analysis about the EU Referendum has been launched at an event in Westminster.
'EU Referendum Analysis 2016: Media, Voters and the Campaign' was collated by academics from Bournemouth University and Loughborough University and features comments and opinions from academic experts from a number of institutions – sharing views on both the Leave and Remain camps and the final Brexit outcome.
The book was published just ten days after the EU Referendum and features 100 academics across 80 chapters.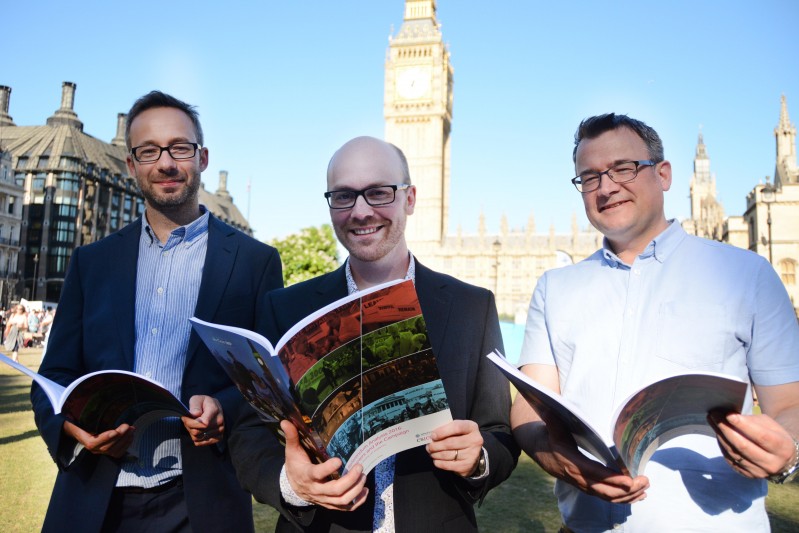 Edited by Bournemouth University's Dr Dan Jackson and Dr Einar Thorsen, alongside Loughborough University's Professor Dominic Wring, the book features subjects like the language of prejudice, media coverage of the campaign, and the rhetoric of the EU Referendum campaign.
The event was opened by Conor Burns MP, who is Member of Parliament for Bournemouth West. He said, "This is a fascinating report, a really academic insight into what happened only a few short weeks ago."
Dr Einar Thorsen, Principal Academic in Journalism & Communication at Bournemouth University, said, "We always felt that there was a bit of a gap between all the fantastic research that happens in academia and politicians, so we were looking for way to get all that expertise out there very quickly.
"The idea is that it is early reflections from academics and experts in media and politics in the UK. This includes early findings and a critique of the Referendum campaign in terms of communications and media coverage."
Dr Dan Jackson, Principal Lecturer in Media and Communications at Bournemouth University, said, "There are eight sections, ranging from parties, social media, journalism, political communication, and news & politics, so all of the key moments from the campaign are reflected upon."
Hosted in Portcullis House in Parliament Square, the event was attended by MPs, MEPs, Lords and prominent academics, who all engaged in healthy debate about the outcomes of the Referendum and lessons that can be learned for the future.
Professor Dominic Wring, Professor of Political Communication at Loughborough University, added, "Its nice to formally launch the report at Westminster and so soon after the Referendum, while it is still fresh in peoples' minds. 
"When normality resumes, and people start thinking about Brexit again, and thinking about what happened, there is actually a lot of evidence here that puts together some of the facts for people then to distil and think over." 
The book is available to read for free in PDF form at http://www.referendumanalysis.eu/