BU's Dr Sarah Bate shared her work and research into facial recognition during the British Science Festival in Swansea.
Sarah, a Principal Academic in Psychology at BU, was awarded the prestigious Margaret Mead Award Lecture for Social Sciences as part of the Festival.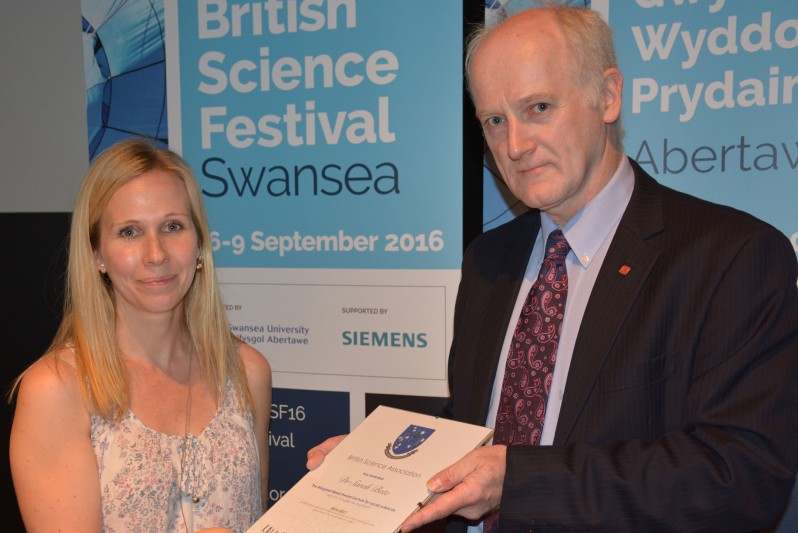 Her award lecture - titled Are you a super-recogniser? - was supported by the Learned Society of Wales and Sarah received her award certificate from its Chief Executive, Professor Peter Halligan.
 
Sarah said: "I'm really flattered to have been given the Award – I understand there was a lot of competition for it and it's a really prestigious award, so it's really been a highlight of my career to come and speak at the British Science Festival. It's been a really exciting opportunity."
 
Sarah discussed both ends of the facial recognition spectrum during the hour-long lecture – from prosopagnosia (face blindness), the inability to recognise familiar faces, to super-recognisers who have exceptional face processing skills.
 
She also discussed the practical applications of utilising super-recognisers for policing and border control.
 
"I imagine that most people who came along to the talk didn't know much about face recognition before, and probably just assumed it's an automatic thing that we can all do," said Sarah.
 
"So I hope that I convinced them that there's this wide spectrum of face recognition skills and we need to support those at the bottom end who might have face blindness but we might be able to really use those at the top end to improve policing practice, for example."
 
Sarah gave the talk at Swansea University as part of the British Science Festival, which ran from 6-9 September.