Researchers from the University of Toyo in Tokyo have visited Bournemouth University Lecturer, Dr Debbie Sadd, an expert in events management and community involvement in mega sporting events. 
Debbie has been heavily involved in developing volunteer programmes including the setting up of Bournemouth's Festival Maker programme and the Farnborough Flyers for the Farnborough Air Show.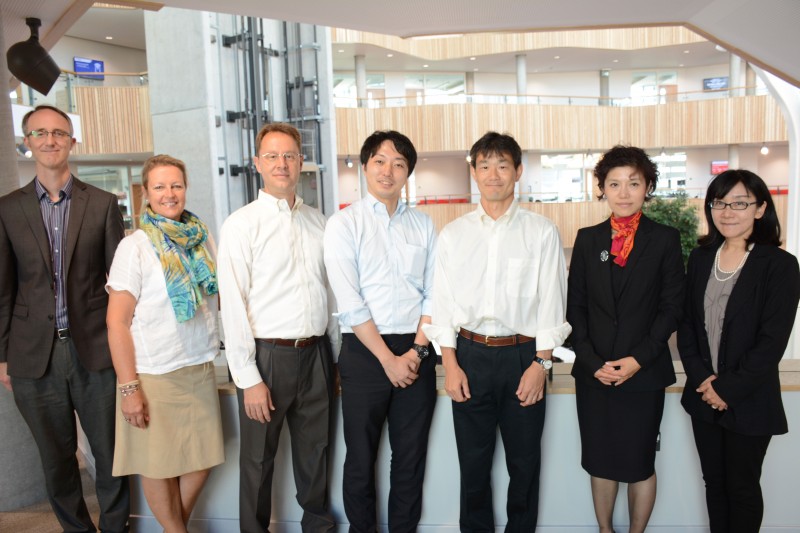 The team from Japan travelled to Bournemouth to find out more about volunteering at London 2012 and how Tokyo can recruit and train its own volunteers in time for the Games in 2020.
"Volunteering was a really key part of London 2012.  Around 70,000 'Games Makers' volunteered during the Olympics and Paralympics, including myself, and were arguably one of the highlights of London 2012 – you only need to read the headlines at the time to see how well received they were," explains Dr Sadd.
"BU staff and students were involved in volunteering at the medal ceremonies for the sailing events at Weymouth and Portland as well as helping at other venues such as Eton Dorney Rowing Centre and even working as part of the Olympic Broadcasting Network.  Colleagues from BU went to great lengths to support our students to take part in the Games at Weymouth and Portland.  It was a great opportunity for them and inspired us to set up Bournemouth's Festival Makers Programme."
"Based on the highly successful Games Makers, the scheme aims to make local people ambassadors for Bournemouth and get them involved in events such as the Air Show and help visitors to get the most out of their trip," says Dr Sadd, "Our Events Management students are very much involved in the scheme and get to see how an event is run and how we recruit, train and manage volunteers."
In December 2015, Dr Sadd was invited by the British Council to travel to Tokyo to give a keynote speech at a conference focused on sharing experiences from London 2012.  It was here that Dr Sadd was able to share BU's experiences with universities from all over Japan and with members of the Tokyo 2020 organising committee.
"This week's visit is a chance to share our experiences of volunteering as part of London 2012 and beyond and begin to shape a volunteering programme for Tokyo 2020," says Dr Sadd, "It was great to be involved in the 2012 Olympics and I'm really pleased to be able to use what we learned to help design a volunteering scheme for 2020."