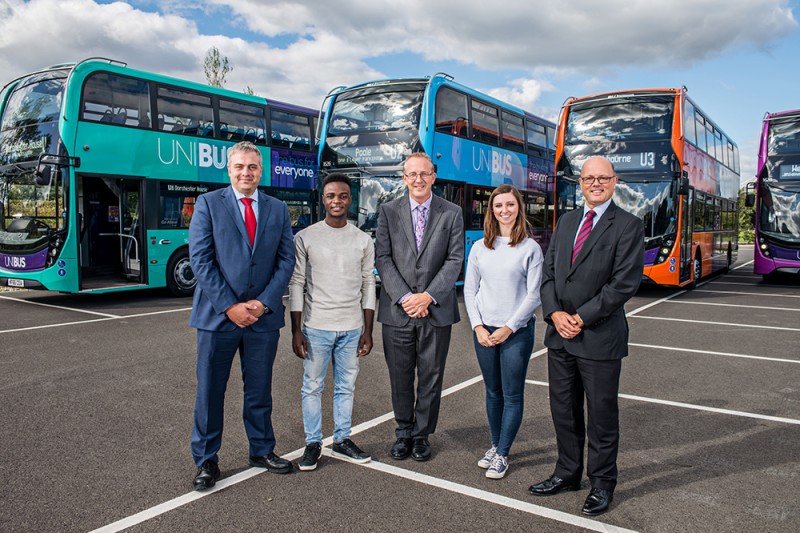 This week you may have seen some of our brand new BU-branded buses. The entire UNIBUS fleet – the official university bus service– will take to the roads from Monday 26 September to carry students, staff and members of the public to and from the university as well as in and around the local area. 
The new buses - known as UNIBUSES - are part of our new 10 year partnership with morebus. The agreement, which also involves Arts University Bournemouth took effect from 1 August, with the new buses in use for the start of the new academic year.
The shiny new fleet of 12 UK-built double decker Enviro 400 MMC low carbon emission buses are the most environmentally friendly buses BU has commissioned to date.
The brand new Euro6 ADL Enviro400 Low Carbon Emission Buses are double deck vehicles, which have some of the most advanced technology fitted to reduce emissions and improve fuel economy.
The buses are also fitted with auto start/stop technology which automatically switches off the engine when the vehicle stops. This eliminates engine idling and will improve local air quality and reduce noise pollution particularly at busy bus stops.
Students can enjoy a host of benefits and enhancements to the current service including:
The brand new 17 route which travels across Poole and Bournemouth, connecting both the Talbot and Lansdowne campuses as well as stopping at Bournemouth Rail Station. The service will run every 30 minutes Monday to Saturday and hourly on Sundays. You can use the 17 service with a UNIBUS key card as well as all other more bus zone A network services.
An annual pass gives you all the dedicated UNIBUS services and the entire morebus zone A network. If you travel frequently to campus, the annual pass is the cheapest option can speed up journey times as you won't need to fish around looking for change for the bus.
You can also use your pass to add multi-trip £10 top ups. This is a significantly cheaper way of buying single journeys – each time you put your key on the reader on the bus, one journey is deducted
Child fares for are available for all BU students travelling on other morebus routes at any time by showing your student ID card to the driver. Separate fares apply on night buses.
BU students can benefit from a 10% discount on numerous Yellow Bus advanced fare adult products. A ten-trip multi ticket can be purchased from Poole House cash office.
New free WiFi and USB charging points for smart devices.
To find out more details about all of these incentives, head to the BU website.
For more information about the improved services - and details of timetable changes - please visit www.unibuses.co.uk.