On Thursday 13 October, BBC Radio Solent reporter Rebecca Romo visited Lecturer Dr Deborah Gabriel and Media Inequality students at the Talbot campus to record interviews for the Breakfast Show on how the unit can help bring positive changes to the advertising industry.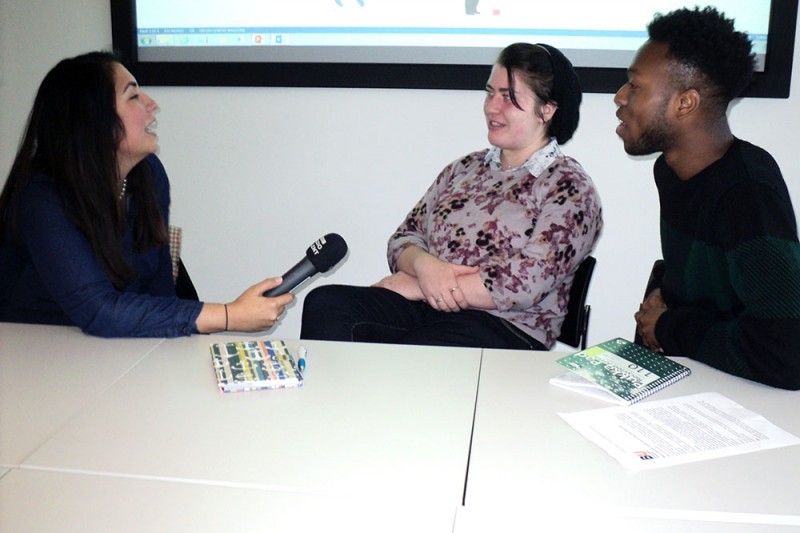 Dr Gabriel developed the Media Inequality unit drawing on her specialist knowledge and skills in social justice pedagogy – where teaching is designed to bring about social change, and expertise in issues relating to race, ethnicity and culture. Dr Gabriel is the Founder and CEO of Black British Academics, an independent organisation focused on enhancing race equality in higher education.
The unit is designed to help students develop critical understandings of historical and contemporary issues relating to the dynamics of race, ethnicity and culture across the media and cultural competencies in communications practice.
Media Inequality students Ray Taiwo (BA Public Relations) and Stacey Kelly-Maher (BA Marketing Communications) took part in the interviews. The remaining students contributed to the show by helping select the adverts to be featured and providing feedback on the script. They also became the audience during the recording of the show, helping to create the atmosphere of a live studio discussion.
The interviews aired on Monday 17 October during the Breakfast show on 96.1 and you can listen to the interviews on the BBC website.
Commenting on the BBC Radio Solent broadcast, Dr Gabriel said: "This exercise was designed to help prepare students for one of their assessments, which is a video presentation on one of the topical issues around race, ethnicity and culture covered on the unit.
"By taking part in the radio show, students went through the process of unpacking complex issues based on specific examples using critical theories and articulating problems from an informed position. Ray and Stacey did very well indeed in the interviews and all of the students have benefited from this experience."