Find out more about innovations in tourism, explore how personal information is shared on the internet, and even watch a play about happiness.
 
These are just some of the free public events being held by Bournemouth University as part of the Economic and Social Research Council (ESRC) Festival of Social Science, taking place between 5-12 November.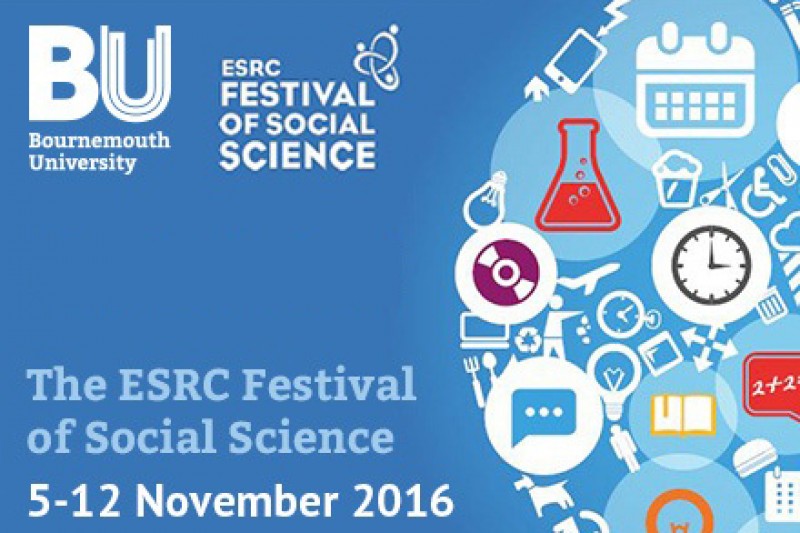 Also among the BU events on offer is a screening of award-winning film Rufus Stone, which explores the experiences of older LGBT people in rural communities. The gala screening, at Boscombe's Shelley Theatre on 5 November, will be followed by a Q&A with the cast and crew – including former Eastenders actress Lin Blakley, who stars in the film.
 
Other events will look at how technology could help address digital addiction, whether tax havens help or hinder an economy and the feminist legacy of Mary Shelley.
 
Naomi Kay, Public Engagement Officer at Bournemouth University, said: "With free events covering everything from technology to tax havens, alongside performances, film screenings and interactive exhibitions, there's something for everyone.
 
"The festival provides a great opportunity to gain an insight into the social science research taking place at BU and share your opinions on the issues affecting our lives and society."
 
The BU events taking place are:
 
·         Digital me – Saturday 5 November, 9am-6pm, Sovereign Shopping Centre, Boscombe
A drop-in exhibition exploring how digital technology impacts on our lives.
 
·         The Shelley-Frankenstein Legacy: Social science in history and today – Monday 7 November, 9am-4.30pm, Executive Business Centre
Panel discussions exploring the feminism and sociology of Mary Shelley's Frankenstein from a historical and contemporary perspectives. This event will also feature a screening of the film Frankenstein over lunch.
 
·         My voice, my story: lived experiences of being a non-traditional student at university – Monday 7 November, 10am-1pm, Bournemouth University
Non-traditional students will share their experiences through images, films, and talks.
 
·         Screening and reception of film Rufus Stone – Monday 7 November, 3-5pm, Shelley Theatre 
Fifth anniversary screening of the award-winning research film, exploring the experiences of older LGBT people in rural communities, followed by a Q&A and gala reception.
 
·         Preventing digital addiction: the new requirement of socially responsible technology – Monday 7 November, 6-8pm, Bournemouth University
Explore the challenges of designing addiction-aware technology and why it's an important issue.
 
·         What is the internet hiding from you? – Tuesday 8 November, 2.30-5pm and 6-8.30pm, Executive Business Centre
Find out more about how your personal data is used online and explore issues around how information is shared.
 
·         Access to the future: communicating the dreams and aspirations of young adults with learning disabilities through creativity – Tuesday 8 November, 6-8pm, Coffee #1 Dorchester
An evening of poetry and other creative methods which explore the everyday experiences, hopes and dreams of young adults with learning disabilities.
 
·         Tax havens and international finance centres: do they help or hinder an economy? – Tuesday 8 November, 6-8pm, Executive Business Centre
Hear from a panel of BU experts about the pros and cons of tax havens and what the international community is doing to solve the problems without losing the wider economic benefits.
 
·         Combating financial fraud and scams – lessons from research – Wednesday 9 November, 10am-3pm, Executive Business Centre
Learn more about the latest research into tackling the issue of financial scamming and fraud, the threats they pose and the opportunities that exist to combat them.
 
·         Innovations in hospitality and travel – Thursday 10 November, 10am-1pm, Bournemouth University
Find out how research is impacting on innovation in the tourism and hospitality industries, including menu design, unconventional payment methods and dynamic pricing strategies.
 
·         HAP – a Play about Happiness – Thursday 10 November, 7-8.30pm, Pavilion Dance South West
A comedy about happiness and wellbeing, this play follows a young woman as she visits the doctor claiming she's too happy.  
 
For more information and to book your free places, visit: www.bournemouth.ac.uk/esrc-fss.