Bournemouth University's Vice-Chancellor, John Vinney, met with alumni working across Royal Bournemouth and Christchurch Hospitals NHS Trust (RBCH) ahead of the university's 2016 Graduation Ceremonies.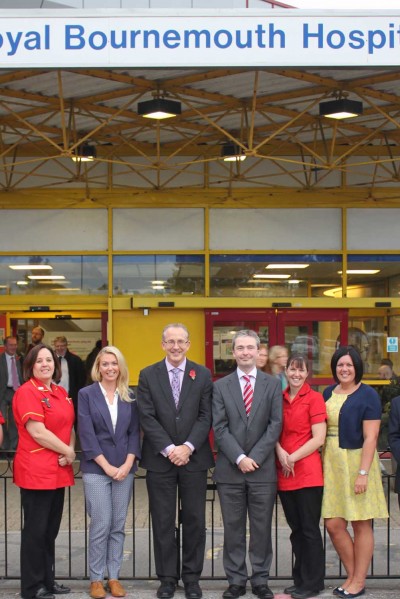 Professor John Vinney toured the Royal Bournemouth Hospital and spoke with BU graduates from courses including Mental Health Nursing, Law, and Public Relations, who now work in a variety of positions at the trust.
 
BU graduate Marie Miller, who is now Matron for Cancer Care at RBCH, showed Professor Vinney and RBCH chairman Jane Stichbury around the hospital's new Jigsaw Building, which provides state-of-the-art facilities for the treatment of cancer and blood disorders.
 
Marie said: "I started at BU in 1999 when I trained to be a pre-registered nurse, and have since completed my degree and Master's at the university. It has been great to see it grow and develop and meet people from a range of disciplines on the postgraduate courses to get a good all-round perspective of patient care.
 
She added: "My role as matron involves the management and leadership of the whole cancer care directorate – so my time at Bournemouth University has given me the capacity to grow and develop as a nurse, enhancing my skills and knowledge in cancer care, but also the leadership and management techniques and styles." 
 
Alongside nursing and healthcare graduates from BU's Faculty of Health and Social Sciences, Professor Vinney also chatted to alumni from a range of disciplines who now work for the trust.
 
2012 LLB (Hons) Law graduate Anneliese Harrison now works as Assistant Trust Secretary, looking at corporate governance and legal analysis.
She said: "I definitely wanted to work somewhere in-house and so when an opportunity arose at the trust, I thought it sounded interesting and would present the opportunity to do a variety of things to challenge my knowledge and use the different areas of my degree.
"I think that the support and the way the degree course was run was really beneficial, and it helped me to obtain lots more skills that I've definitely been able to use in my job here."
RBCH Chief Operating Officer Richard Renaut said that the relationship between the trust and the university was of mutual benefit.
"The relationship with the university is great for us and we really benefit from that, as do our patients," he said.
"There are lots of really great things that we are doing together, and it's wonderful to celebrate the people that are working in the local community and the personal development, as well as the economic benefit, that the university brings to the town."
Professor John Vinney added: "As a BU graduate myself, it has been brilliant to meet others who've stayed in the region as well.
 
"Our relationship with the hospital just goes from strength to strength – and I'm really looking forward to finding new opportunities and new ways of working together."
 
Bournemouth University's 2016 Graduation Ceremonies run from 8-11 November 2016 at the Bournemouth International Centre, with over 3,500 students set to graduate from the Faculties of Health & Social Sciences, Management, Media & Communication and Science and Technology.