Academics from Bournemouth University (BU) have brought together leading contributors from around the world to offer initial thoughts and reflections on the 2016 US Election in a free publication.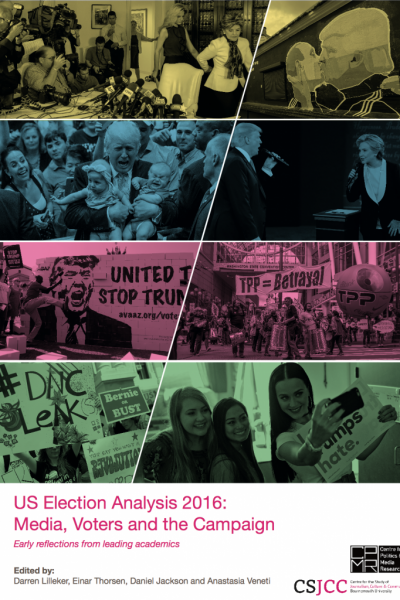 US Election 2016: Media, Voters and the Campaign has been edited by BU's Dr Darren Lilleker, Dr Dan Jackson, Dr Einar Thorsen and Dr Anastasia Veneti and features 83 articles from 90 contributors – including eminent scholars from the US and around the world.
Published ten days after the US Election result, which saw Donald Trump named as President-elect, the publication captures the immediate thoughts, reflections and early research insights on the 2016 US Presidential election from the cutting edge of media and politics research.
Topics covered include the role of the media in the election result, gender, and body language – as well as perspectives from countries including Greece, Slovenia and Canada. The publication covers a range of academic disciplines, from political science to history, advertising and journalism.
Dr Darren Lilleker, Associate Professor in Political Communication at BU, said: "Academics often take months and years to get an understanding of how elections are conducted and their implications.
"Our project provides insights from top scholars across the globe who have united to offer their expert perspectives on this most tumultuous of US elections."
The publication is available as a free downloadable PDF, as a website, and as a paperback report. 
It is the third of its kind, following successful publications of early reflections around the 2015 UK General Election and the EU Referendum.
You can find out more, and download a free PDF of the publication, on the US Election Analysis website.