A low-cost floatation device developed by designers at Bournemouth University and the RNLI has won an award from the International Maritime Rescue Federation.
The Bottle Buoy is a minimum-cost floatation device that allows three plastic bottles to be attached to a central hub to be used as public rescue equipment or for swimming instruction.
 
It has been developed by a design team from Bournemouth University's Faculty of Science & Technology with designer James Benson and the RNLI, and won in the technology category at the first ever Honouring Excellence in Rescue Operations (HERO) Awards from the International Maritime Rescue Federation.
Demonstrator in Model-Making at BU Gary Underwood was part of the team that helped develop the Bottle Buoy.
He said: "The BU Workshops try to get involved with real-life projects and design innovation as much as possible. Our prototypes have helped many local and national businesses and entrepreneurs develop their concepts into commercial products, and the experience we gain from working on these projects feeds back to the students in our teaching.
"Most of the commercial work we do goes relatively unnoticed so it is really nice to get some recognition in the shape of an award, particularly for such an innovative and life-changing product. Working with the RNLI has been a very rewarding experience and we hope to continue working with them on other projects over the coming years."
Discarded plastic drinks bottles are now in abundance in many low resource environments and instructions and a simple template has been developed to allow the bottle buoy to be produced in the local community using items that could be found easily.
Production development and testing has been undertaken in Bangladesh and in the workshops at Bournemouth University.
The Bottle Buoy is now in use in Bangladesh and will undergo further testing before a final resource manual is made open source.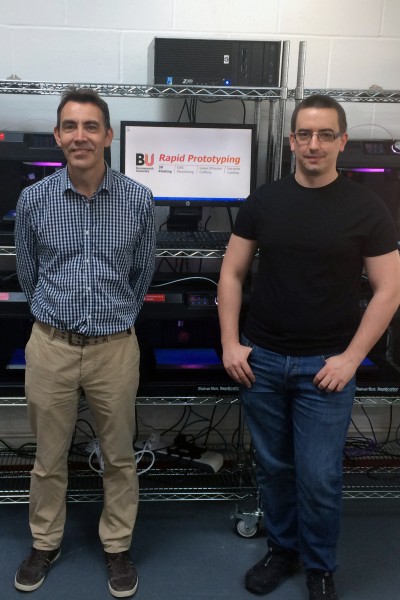 Gary and BU Demonstrator Richard Glithro have worked on developing the Bottle Buoy through John Powell, International Programmes Manager for RNLI International.
The RNLI already had a basic prototype which had been created and tested by James Benson, and the BU team developed the concept further into two different versions: a simple wooden device that can be locally manufactured by low resource communities; and a plastic injection-moulded version that can be manufactured industrially and distributed to the communities in need.
Gary added: "We have developed several versions over the past few months and the latest ones are currently undergoing testing at the RNLI facilities in Poole prior to being sent out to Bangladesh in the New Year for further testing."