The Royal Mail has released set of special stamps to celebrate Britain's prehistory – with the help of Bournemouth University's Professor Tim Darvill.
The Ancient Britain set of eight stamps feature everything from Dorset's Maiden Castle to Grime's Graves, with Professor Darvill writing the text for the accompanying presentation pack to give context to the stamps.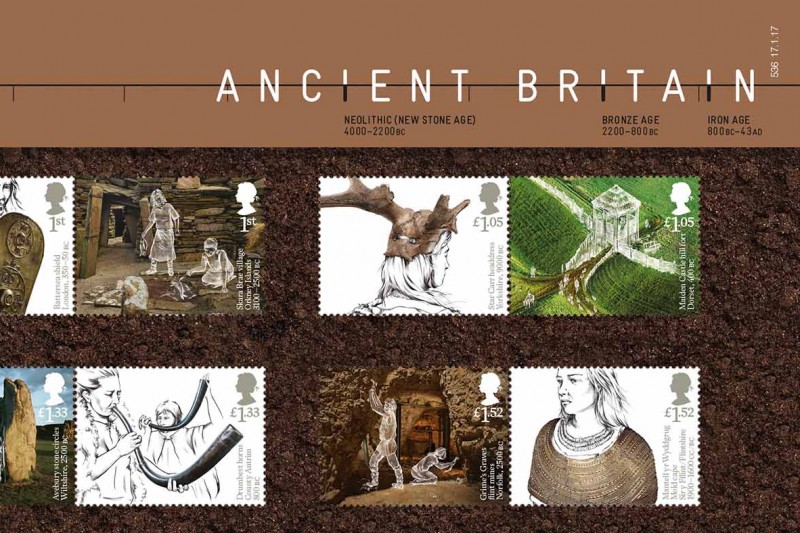 Speaking about the stamps, Professor Darvill said, "It's really valuable way of reminding people about our prehistory, and shows just how much we can learn about it through surveys, excavations, and finds that come to light during everyday life. At one level it these sites and finds provide roots that people can see and feel extending back into the distant past. They providing a sense of history and well-being. At another it shows just how intensively our islands have been occupied for thousands of years."
"The stamps show examples of just how sophisticated those early communities were, sites and objects that would be hard to replicate even using today's technologies."
The stamps cover a wide range of sites and objects from around 9000 BC through to the late Iron Age. Professor Darvill continued, "They are just a selection and in some senses serve to stimulate people to ask what their favourite prehistoric site or object might be. There are lots more to choose from!"
Speaking about the importance of the stamp collection, and similar collections, Professor Darvill said, "The Royal Mail has produced commemorative issues since the British Empire Exhibition set of 1924. Many themes and subjects and events have been celebrated since then, but this is the first time that Ancient Britain has been portrayed.
"Eagle-eyed collectors with long memories will however recall that Stonehenge has appeared a couple of times in other sets, while there have been issues celebrating Roman Britain in 1993 and Industrial Archaeology in 1989. Such collections are a great way of illustrating history and educating people through images and ideas in a subtle way."
Professor Tim Darvill is a prominent archaeologist and an expert on prehistoric Britain, completing excavations around the world. He is well known for his work at Stonehenge and for his best-selling book on Prehistoric Britain (Routledge, 2010 https://www.routledge.com/Prehistoric-Britain-2nd-Edition/Darvill/p/book/9780415490276).
For more information about the collection, visit the Royal Mail website: http://shop.royalmail.com/issue-by-issue/ancient-britain/icat/ancientbritain