From a runner on drama Peak Practice to directing big-budget Marvel TV series Daredevil, BU Media Production graduate Peter Hoar has experienced most aspects of the television industry – and achieved his childhood dream of directing Doctor Who.
We caught up with Peter during a campus visit to find out more about his journey from Bournemouth to Hollywood…
Q: So how does it feel being back at BU?
Bournemouth University has changed hugely – I was here from 1989 to 1992, and obviously 25 years is quite a long time. It's bigger and better, and the technology is pretty much the best you can get, which is hugely important for the guys.
But the disciplines are the same, the material you shoot on is fairly irrelevant because what you're trying to learn is how to tell stories with pictures, so we were still learning the right stuff but now they can all talk about exactly the same technology that they will go and work with, so that's really exciting and really important for them.
I did a Q&A and then a lecture about how to take ideas from scripts and then I did two practical sessions. It's quite nice to come back and help out and be available for advice and hopefully people can learn from me about ways you can behave and ways to be as a director, and the things that people don't realise are important about the discipline.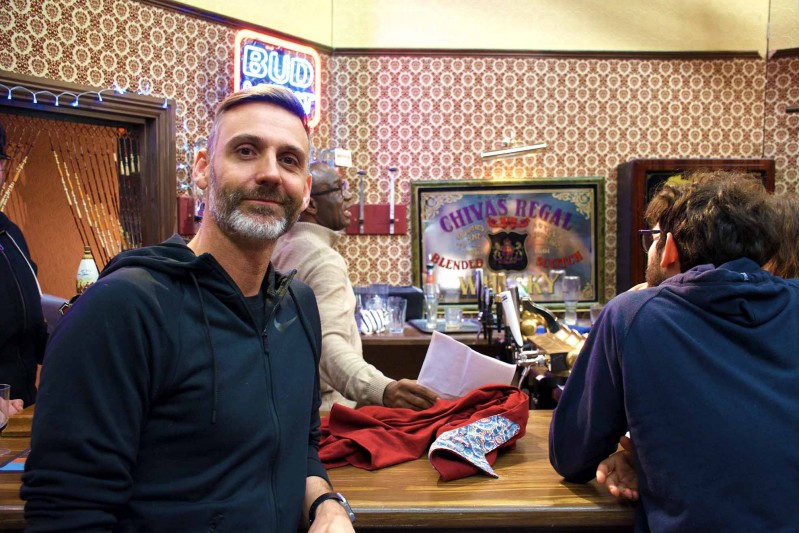 Q: Tell us a little bit about your time at Bournemouth University and how you got to where you are today?
I did the Media Production degree and in my second year I did work experience with London Weekend Television, which was one of the ITV franchises. I was scheduled to do six weeks' work placement there over the summer and I ended up staying for three months because they liked me and I liked them and was having a great time.
I then did bits of work with them throughout my third year, working on things like the BAFTAs and the British Comedy Awards. But when I graduated I realised I wanted to get into drama, so I started looking for work and realised I would need to go back to the bottom again and start as a runner.
I got a job on a show called Peak Practice, and worked on that for about five or six years. I started as the runner and I ended up as the location manager and trainee director, because I'd directed some scenes while I was there – I was working with real actors, professional crews, everything I shot was broadcast so it had to be right, and so I learnt a lot.
I worked as a director on Hollyoaks before moving on to dramas like The Innocence Project and Wire in the Blood. Then I got an agent who basically got me into the room with bigger people and bigger shows - so I took a meeting on a show called Mistresses, which was for BBC1 and that was with four very well-known and established actresses.
That was another big moment in the career and that came about because of my agent and actually because he also managed the director who came up with the show. So that just goes to show that this industry is a web, and you make contacts and that is how those things pay off.
Q: And now you've been out in America, working with Marvel. How did that come about?
In 2015 I was lucky enough to start working with Marvel Corporation TV on a show called Daredevil with Netflix. I did three episodes of that – I would have been happy to just go and do one episode, come home and say 'I've done it, I've got my American credit' but they didn't let me go, so I ended up doing three episodes for pretty much half the year.
And then in 2016 I did an episode of Iron Fist, which hasn't been released yet, which was also for Marvel. And then at the end of the year I did an episode for something called The Defenders, where a lot of the characters come together and fight evil, so I was very excited about that because Sigourney Weaver was in it and who wouldn't be excited about working with Sigourney Weaver?!
It really felt like I was doing my job then, working with film stars like that and I still get excited by that, I don't ever not want to be excited by that!
You obviously don't have to go and break America, but it's a bigger place, it's an exciting marketplace, so loads of people go to do it. I always thought that's where I'd go, and do whatever came my way. I just didn't expect that to be Daredevil!
Q: Are there any particular highlights from your career in the industry?
The geek part of me -which I'm very proud of – was a big Doctor Who fan when I was young.  I would say without question that the reason that I do the job I do is because of Doctor Who. As a ten year old I realised it was somebody's job to make that show and it's what they did for a living.
So Doctor Who was incredibly important to me as I grew up - and then it came back! I tried really hard to get in the first few years, as I knew the producer and had worked with them in the past, but they were looking for more experienced directors.
And then it eventually happened in Season Six. I directed one episode and I loved it! They always say you should never get too close to your heroes, but I did enjoy it and I can say that I've done it now. So I can retire now, because that's literally all I've ever wanted to do!
Q: What advice would you have for anyone hoping to get into directing, and what are you hoping the students will take away from your sessions today?
The best advice is to be nice to people and work very hard because you don't know who they are going to be in the future. Basically I worked hard, and was enthusiastic and I believe I did my job well  and people remembered me when  they were calling the shots.
I hope that maybe the one thing the students will take away is confidence – to own what it is that you think and what you're saying as a director.
Teaching is more about the details – and how we do things, and what shots matter and why we do it, and whatever, but actually, presenting that to a team who are going to get that for you is a lot of the battle. If you do believe that's the right thing to do, it's the best way to tell the story, then be committed to it and say it out loud, be proud of it. Because otherwise nothing will happen.