March 8, International Women's Day, is a global day that celebrates the social, economic, cultural and political achievements of women. The day also marks a call to action for accelerating gender parity.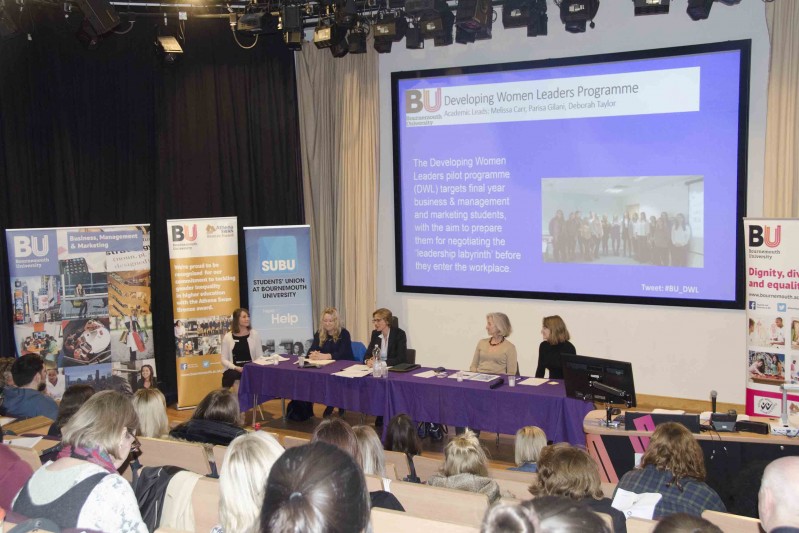 The theme for this year's campaign and beyond is #BeBoldForChange. The aim is to encourage everyone to be a leader in their own sphere of influence, by taking pragmatic action to drive the greatest change for women and unleash the limitless potential offered to economies the world over.
To mark the occasion, Bournemouth University (BU) hosted several events across campus, all of which have been supported by Dorset Police, Police and Crime Commissioner for Dorset as well as Students' Union at Bournemouth University (SUBU).
The first event of the week was a talk by Wendy Williams, Her Majesty's Inspector of Constabulary (HMIC), in which she recalled her career progression and shared her advice for women in senior leadership.
Wendy began by admitting that despite being asked regularly, she cannot pinpoint the exact moment that she 'broke through the glass ceiling'. Indeed, she continued, anyone looking for the 'elusive silver bullet' to do so will be bitterly disappointed as she believes it doesn't exist. Rather, she continued, success comes by concentrating on doing the best possible job you can in any given set of circumstances.
Her advice to future female leaders is to hone your vision and values, understand the business you work for and to be authentic and empathetic. Moreover, she champions the empowerment of others as key to success.
Speaking on BU's International Women's Day celebrations, Ms. Williams commented: "I'm delighted to be asked to speak at Bournemouth University. I really enjoy hearing about the journey of others. I see it as both a responsibility and a pleasure to encourage other women to pursue their careers and leadership positions."
When asked what advice she would give to her student self, Williams responded: "Take every opportunity to understand what hard work is. Always work harder and learn the art of discipline."
BU also hosted a panel discussion with Louise Barton; Head of SRP Operations at Barclays, Tara Flynn; Managing Director at Ratio, Jane Newall; Chief Superintendent at Dorset Police and Diana Parkes; business owner of Women's Sat Nav to Success.
The panel took questions from the audience and discussed various themes relating to International Women's Day.
As Melissa Carr noted in her opening remarks, it's been 47 years since the introduction of the Equal Pay Act and estimates show that it will take 70 years to close the pay gap. The panel used these statistics to frame their discussion, with a focus on women and the workplace.
As each panellist works in a different industry, they compared attitudes and experiences across different sectors, from corporate and financial services, to law enforcement and a start-up business.
Topics of discussion included perceptions of success, the importance of finding a mentor and challenges in the work place and how to overcome them.
The events this week reflect Bournemouth University's commitment to the Athena SWAN charter, of which the university has been a signatory member since 2012. The University submitted a bronze institutional submission under the pre-May 2015 Athena SWAN initiative and received a bronze award later that year. Subsequently, the university is committed to meeting ten key principles within their policies, practices, action plans and culture with the aim of addressing gender equality in a broad sense.
To see what's going on around campus and other updates, look out for the #bued1617 and #IWD2017 hashtags.