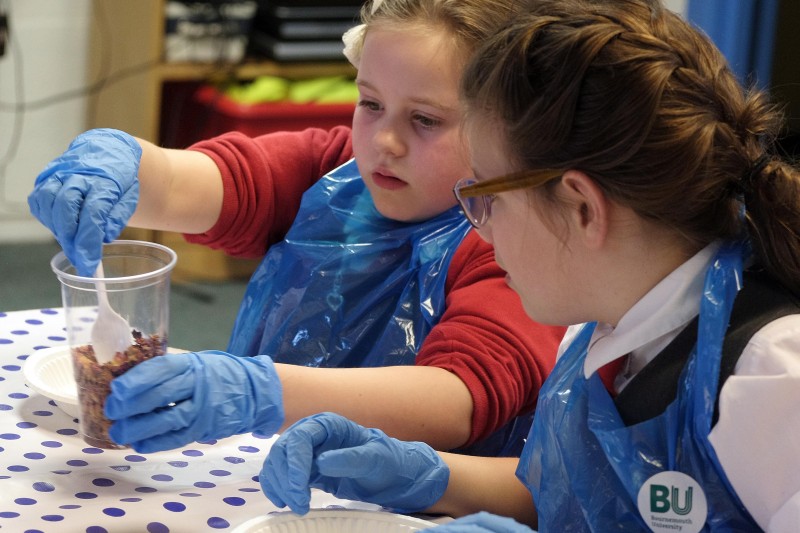 Children from years three to five, aged between seven to ten years old, were invited to take part in an after-school bath-bomb making session, as well as a passport presentation at Pokesdown Primary School in Bournemouth as part of the launch of Bournemouth Children's University.
The session was hosted by Bournemouth University (BU) staff as part of the The Children's University Trust, which aims to provide children with exciting and innovative learning activities and experiences outside normal school hours.
The session saw around 27 pupils learn about the science behind bath bombs, before working to create their own. A team of BU Student Ambassadors were also present, and worked with each team of children to help create their bombs, which they were able to take home. As current students at the university, the Ambassadors also explained some of the areas which they were studying, including: forensic science, engineering, business and animation.
The group then took part in a passport-giving ceremony, where Children's University Trust passports were supplied to the class. The passports can then be stamped after children have taken part in one of the out-of-hours activity sessions offered, with some of the classes being offered at BU's Talbot Campus, and other local areas with BU working in conjunction with external organisations, such as Bournemouth Pavilion, and Hengistbury Head.
 Senior Leadership Team member and year-five teacher at Pokesdown Primary School, Adam Biddle said: "The sessions are fantastic. The fact that, with this group in particular, we've managed to engage a lot of families – older brothers and sisters with their younger siblings, is really good for family learning which something is thought of very highly here.
"We already have a link with BU with the Professor MeBe sessions in year five and the children are already aware of this link, so we want to encourage our younger children to be aware of it too."
 
Sarah Smith, Primary Outreach Co-ordinator at BU said: "Bournemouth Children's University celebrates family learning and fosters a love of learning outside of the normal school day.
 
"We've been at Pokesdown working with a broad range of ages to make bath-bombs in an after school club.  It's great to see these pupils having their confidence boosted through science while really having fun!"
 
The next session will see around 36 children, aged between one and 13 from four local schools take part in a forensic science session at BU's Talbot Campus. Children and carers will be looking at a range of forensic techniques including fingerprint & footprint identification, DNA extraction and handwriting analysis.
 
External organisations and schools looking to get involved should contact Sarah Smith at [email protected]