The Dementia Orchestra is music-based community engagement initiative created in partnership with BU and local professional musicians.
Made up of an inspiring group of people living with dementia, their family carers, professional musicians, student and staff volunteers, the group come together for weekly rehearsals with the ultimate goal of performing to the public.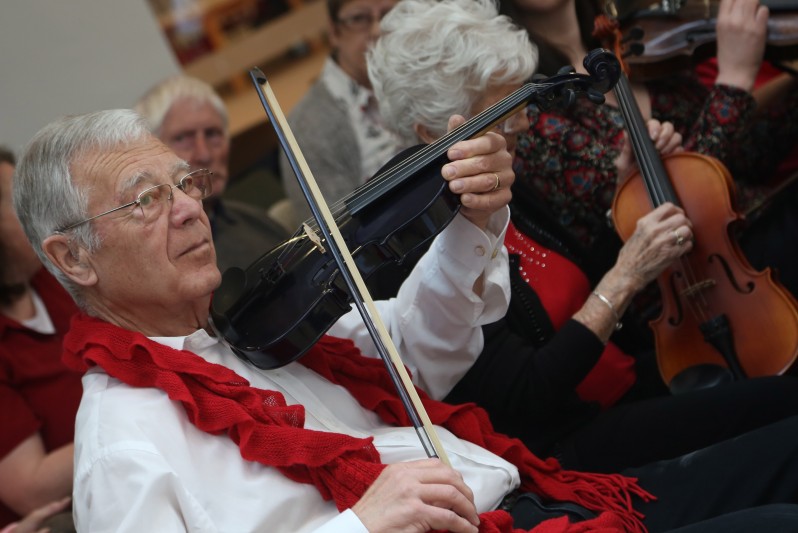 On Friday 31 March (rescheduled from Monday 27 March), their goal will become a reality, as BBC South feature the Orchestra as part of their 'Inside Out' show across the south coast - so join us and tune in at 7.30pm to celebrate their achievements. 
The Orchestra also performed at BU's Poole House on Wednesday 29 March ahead of their television debut. Michelle O'Brien of the Ageing and Dementia Research Centre said: "Having worked with those participants for the last four years, I have seen how the orchestra have become a family which gives great comfort to those carers whose loved ones are no longer able to attend  due to different circumstances."  
She added: "New participants have attended not knowing what to expect, however leave with a sense of pride in learning a string instrument or percussion instruments.  Everyone respects and supports one another and feel very much part of a group.  Some may attend feeling unsettled however they certainly leave looking and feeling happy as they have expressed themselves through the different forms of art either by playing an instrument, clapping, humming, just listening or even dancing, thereby forgetting that anyone is living with a condition such a dementia as we all become equal."
This project promotes life-long learning philosophies and challenges the perception that people living with dementia are unable to learn new things. It has positively impacted the lives of all involved, including those who have been privileged enough to listen to their performances.
The Orchestra project is no longer running, but to find out more information about BU's current work in the field of Dementia, contact the Ageing & Dementia Research Centre.