Advances in technology and virtual reality training are changing the way orthopaedic surgeons across the UK train and prepare for operations.  Bournemouth University's Orthopaedic Research Institute (BUORI) is at the forefront of these advances and during his forthcoming inaugural lecture, Professor Robert Middleton will be sharing the impact and opportunities of these changes.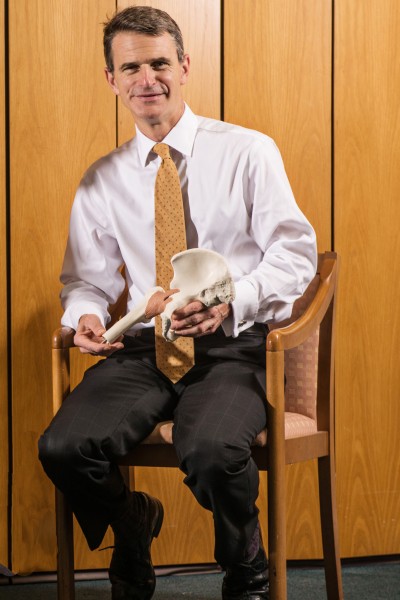 Professor Middleton is an orthopaedic surgeon with over twenty years' experience in the development of robotic surgery.  He also is Head of Bournemouth University's Orthopaedic Research Institute (BUORI), which is a world leader in the use of virtual reality technology in training.
"Over the last few years, there have been dramatic advances in technology which are helping to completely change the way we train our surgeons.  Virtual reality training simulators can replicate almost every aspect of surgery, giving our surgeons the opportunity to practice meticulously before they even reach the operating theatre.
"BUORI is at the cutting edge of this technology.  Thanks to investment funding from the Dorset Local Enterprise Partnership (DLEP), we've been able to invest in a knee replacement simulator, a hip arthroscopy training simulator and Gait lab, which allows us to monitor patient outcomes after surgery.  This equipment is vital to our research and is allowing us to train surgeons from all across the country."
The Institute specialises in cutting edge research into the prevention and treatment of Osteoarthritis of the hip and during his inaugural lecture Professor Middleton will highlight how hip replacements will be performed in space. 
"This is a problem that needs solving as the Mars One mission to establish a permanent colony has started training its astronauts. The trip to Mars is a one way ticket and the astronauts won't be returning to earth," Professor Middleton said. 
"As hip replacement is the commonest operation performed on earth it is the most likely one that will need to be performed on Mars, and that's exactly what we'll be discussing as we share ideas from our research."
After the lecture, attendees will have the chance to see some of the state-of-the-art training equipment being used by BUORI and even try their hand at virtual surgery.
Professor John Fletcher, Pro-Vice Chancellor of Research and Innovation at Bournemouth University commented, "By working together with health care staff, patients and the technology industry, BUORI is bringing together research and professional practice with some excellent results.  As well as improving training, their research is helping to enhance recovery after surgery and develop treatments which prevent or delay the need for surgical intervention."
"Professor Middleton has an extensive background in both research and clinical practice, so I'm delighted that he's chosen to join Bournemouth University and lead the work of BUORI."
The event will take place on Wednesday 12 April at the Executive Business Centre, Holdenhurst Road, Bournemouth.  Refreshments will be available from 6:30pm and the lecture will start at 7pm.
For more information and to book a free ticket visit the Eventbrite page.