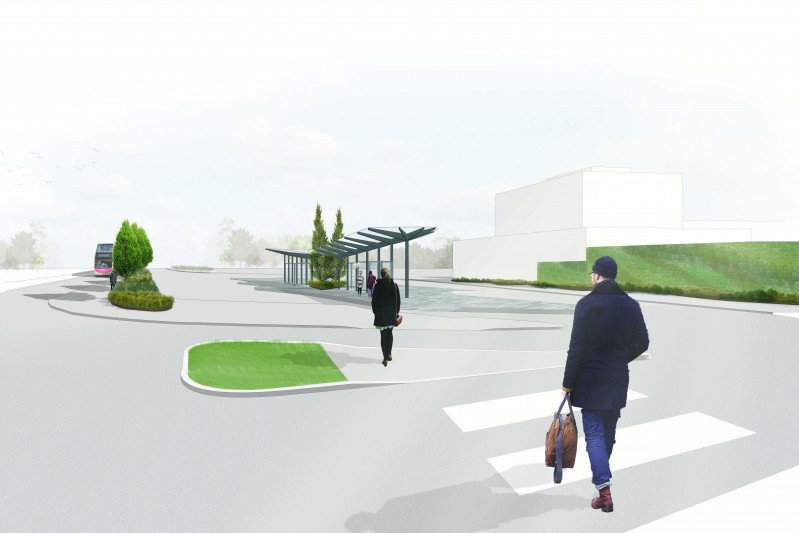 As we move forward with our exciting estate development project, work continues to improve the Talbot Campus. Here is an update on the progress made to date and how the continuing works may affect you in June, including news of an additional project to improve the Talbot Campus access road.
Resurfacing work to the Campus access road
In order to provide an improved road surface for all users, resurfacing works to the access road will commence on Monday 12 June until Friday 30 June. 
During this period:
A one way system will be in operation from Fern Barrow to Gillett Road. Traffic leaving campus will exit via the Gillett Road diversion route.
Traffic lights will be in operation on the entry and exit points to Car Park B and on Gillett Road adjacent to Talbot House.
The access road will be closed in both directions for 2 days from Monday 26 to Tuesday 27 June. A diversion route will be clearly signed and communicated in advance.
Car park permit holders are requested to use Car Park H where possible to help reduce possible congestion and delays on the access road.
The coach drop off/pick up bays located on the access road will be out of operation. Any Talbot Campus private hire coach pickup/drop off requirements should be made via 

[email protected]

.
A traffic management plan for the resurfacing works can be viewed here.
Bus hub work commences and changes to Visitor Car Park location
From Monday 12 June the visitor car park will be relocated from Poole House to car park F to enable the start of works on the new bus hub facility. Please contact [email protected] if you have any urgent event parking requirements.
Gillett Road widening
Work will commence on Monday 3 July to widen Gillett Road to provide easier bus and vehicular access into Talbot Campus from Boundary Road roundabout. More detailed information about Traffic Management arrangements during this time will be issued prior to work commencing.
Talbot Campus Landscaping Project
The Landscaping Project works have commenced to both the Christchurch House and Open Access Area.
Pedestrian and cyclist access routes from the Boundary Roundabout and Poole House will be temporarily diverted around the works with clear signage in place to navigate students, staff and visitors around the works.
A summary of the project timelines are indicated below:
Phase 1a / 1b – Temporary closure of The Global Hub and Graduate School entrances to undertake early paving works 5 June – 12 June
Phase 1c – Christchurch House closure of main entrance 5 June - 19 August – The main entrance will be for emergency exit only
Phase 2 – Open Access area closure to Weymouth House main entrance 12 June - 1 September – The main entrance will be for emergency exit only - temporary access via South East Entrance opposite Christchurch House.
Phase 3 – Christchurch House paving works outside the emergency exits 21 August - 1 September.
While care has been taken to avoid exam periods, there will be some noise as the tarmac is lifted from this area. Please see the pedestrian routes diagram for alternative access to buildings.
Following completion, these works will provide a continuous University Street between Poole House and Christchurch House along with newly incorporated seating, trees and grassed areas. 
A fourth road from Boundary Road Roundabout to Gillett Road
The main pedestrian/cycle path around Boundary Roundabout has been reduced in width due to the on-going works. Cyclists are reminded that they must adhere to signage and dismount for this short section of their journey. 
Talbot Campus works summary
A summary of the current planned project timelines are indicated below. Please note these timings are estimates and may be subject to change:
Waste compound project  -  10/04/2017 to 14/07/2017
Car Park H extension –24/04/2017 to 14/07/2017
Landscaping Project – 05/06/2017 to 01/09/2017
Access road resurfacing – 12/06/2017 to 30/06/2017
Road widening to Gillett Road – 03/07/2017 to 08/09/2017
A fourth road from Boundary Road Roundabout to Gillett Road – 10/04/2017 to 25/10/2017
Delivery of a purpose-built bus hub  - 22/05/2017 to 22/12/2017
While the timing of the works aims to minimise disruption, there is limited flexibility in terms of when they can occur. The changes to car parking will require many car users to adjust their parking habits, particularly when the numbers of available spaces are temporarily reduced. To maintain safety, all vehicle users and pedestrians must follow all signs and associated restrictions put in place.
If you do have any queries please contact [email protected].