More than 600 students have enrolled on the new Global Talent Programme (GTP) at BU in 2017, with students having opportunities to work abroad throughout the year, including in China, India, Indonesia and Malaysia as part of the programme.
At a ceremony in BU's Fusion building, BU Vice-Chancellor Professor John Vinney presented the first 136 students to complete the programme with their GTP certificates. Students also heard from BU Independent Board member Annette D'Abreo, Co-founder and Managing Director of Ceuta Healthcare, who said: "Instability and change are the new norm. Some of you will soon be entering the world of business and employment and as an employer we look for relevant skills and experience, but also something that shows you've got a passion and that you've got the right attitude and can be a team player."
BU students are likely to develop their careers as part of a new, global workforce, tasked with working across national borders in multiple languages with a global mind-set that understands, appreciates and identifies with a broad cross section of cultures, customs and business practices.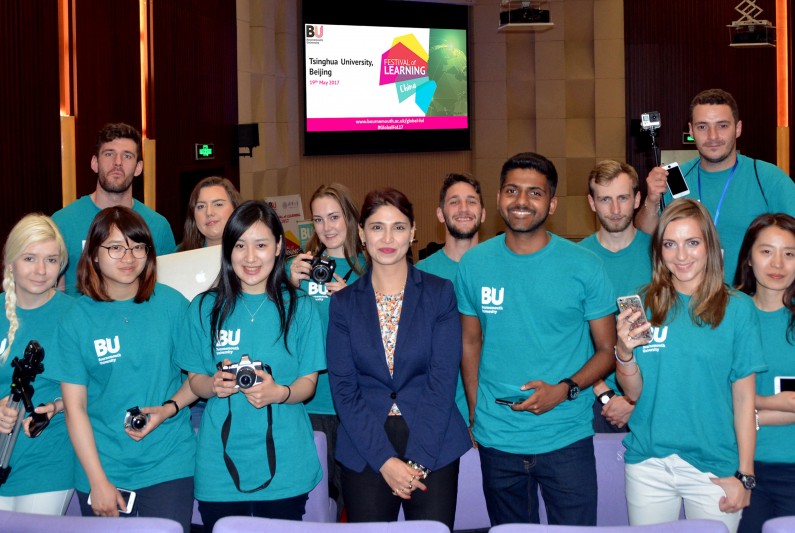 The Global Talent Programme, which is open to all students studying at BU, has been created in collaboration with employers to develop students to succeed as graduates in the highly competitive global workplace. The GTP aims to ready students for the global workplace, offering a mixture of workshops, seminars and international immersion opportunities. One example being Destination China, a summer school hosted by BU's partner university, Beijing Normal University, Zhuhai (BNUZ), which saw a group of students travel to China as part of BU's Global Festival of Learning.
The Global Festival of Learning, now in its second year, showcased BU's research and expertise across four countries: China, India Indonesia, and Malaysia, with 55 BU students working on this international series of events, which involved hosting talks around innovation, inspiring change, and sustainable development supported by an equal number of staff.
Dr Sonal Minocha, Pro-Vice-Chancellor of Global Engagement at BU, said: "At the core of Global BU is BU's vision, which looks to fuse a stimulating, challenging and rewarding university experience with excellent education, research and professional practice so our students and graduates go onto enrich the world.
"Our mission is to drive global thinking; develop global talent; and deliver global traction. This enables our students to head out into an increasingly interconnected world, interact with a hugely diverse range of cultures, businesses and organisations and ultimately deliver impact in our societies."
She added: "Our commitment to these values is seen in all of our global events, such as the Global Talent Programme, Global Festival of Learning, Destination China and India and The International Commencement Ceremony.
BU's global activities will be celebrated during this year's Festival of Learning in Bournemouth, with a range of free public events on Wednesday 12 July – to book tickets for the Festival of Learning, visit: www.bournemouth.ac.uk/FOL