Bournemouth University's Festival of Learning got off to a flying start with a sun-soaked opening weekend.
Over 1,000 people of all ages enjoyed a host of free activities during the Festival family day on Talbot Campus. Activities on offer ranged from animal adventures to sporting sessions and workshops exploring everything from dinosaur DNA to getting messy with research.
Adventurer, endurance athlete and self-confessed mischief maker Anna McNuff was this year's Festival guest speaker and gave two talks about her travels around the world – including cycling through every state in the USA and running across New Zealand.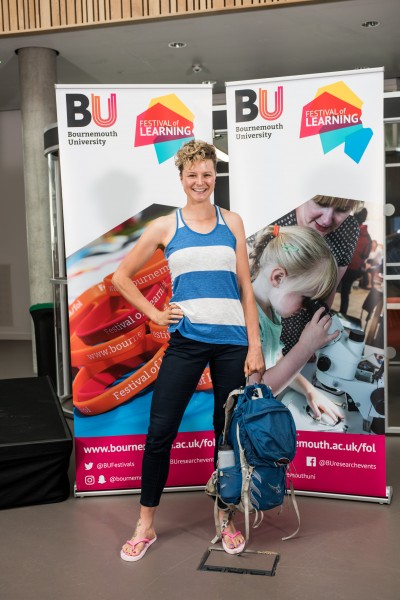 Ahead of her talks she said: "I'm just going in for some good old storytelling. I'm really just hoping that the kids, and the adults as well, just get the idea that they are capable of so much more than they imagined and for those kids to just have massive dreams and not be scared about starting on them."
She added that she thought the Festival of Learning was a great opportunity for people to explore the university and the work and research taking place.
"It's really nice and it's so out of the norm from what a lot of universities do," she said.
"I think to do something for the local community like this where you're just focused on giving back and allowing them access to an amazing campus is a great thing to do, and I think there's an amazing vibe, you can feel the energy and I think it's fab."
The Festival then went to Poole Quay, with a host of drop-in activities to help people learn about healthy and sustainable living. These ranged from guessing the amount of sugar in fizzy drinks to testing strength and having your blood pressure taken.  On Sunday, the Festival of Learning also took to rural Dorset, specifically Winterborne Kingston, for the Big Dig Open Day, the chance to see the archaeological excavation work of staff and students, with over 400 people attending to see their work.
The Festival runs across five days, with over 140 free events and activities to bring learning to life and share BU research and expertise.
A host of events run throughout the day and evening until culminating with a global day on Wednesday 12th July.
Following the family day, Festival Director Genna West said: "The family day has gone really well - lots of people of all ages and backgrounds have come to visit the Festival. We've had so many fantastic activities showcasing all of our amazing research.
"We've got another four days of activities and events – from theatre sessions to debates, to exhibitions and professional development opportunities alongside talks and lectures, so there's still lots more to see and do."
Free tickets are still available for Festival of Learning events. For more details, and to book, visit the Festival of Learning website. 
See highlights from the day on our Festival of Learning hub page. 
Festival of Learning 2017 family day
Festival of Learning highlights