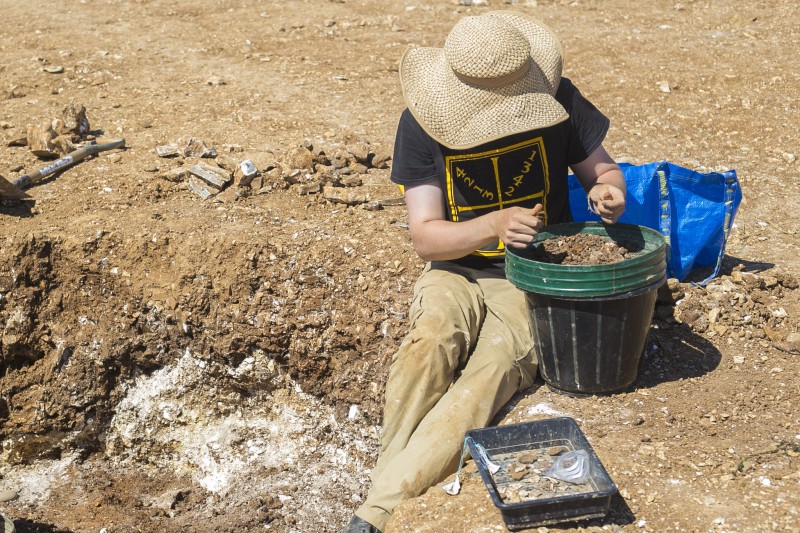 A team of BA and BSc (Hons) Archaeology students led by BU's Professor Miles Russell and Lecturer, Paul Cheetham, together with Archaeology Lecturer, Dr Derek Pitman, has been unearthing a variety of archaeological finds from an area in Winterborne Kingston in Dorset.
The site, which BU students have been working on for around nine years has been the subject of media attention in recent years, following the discovery of 16 pre-Roman roundhouses in two trenches dug at the site in 2015.
The site is believed to have been the home of pre-Roman settlers, the Durotriges, who occupied areas of Wiltshire, Dorset and Somerset.
This year, the team have dug up a variety of finds, including evidence of early industrialisation on the site, which enables further insight into the lives of the Durotriges. Other finds included a vase and a whale bone, thought to have been treasured by the tribe, who lived in the area around the first century BC.
BU Archaeology Lecturer Dr Derek Pitman, said: "This year, we targeted our excavations on a late Iron-Age farmstead. The geophysical survey led us here as there was a very clear, enclosed area, so we situated our trench directly over that.
"We've also found a small industrial complex associated with the activity on the site where the tribe are actually making ceramics and pottery on site, which is very rare. We expect to find this down on Poole Harbour, but on a small farmstead like this suggests a different type of industrial process and social organisation, different to what we would expect in this type of area."
The team also invited guests to the Dig as part of their BU Festival of Learning event. To find out more about the dig, and follow the team as they continue their research, visit the Durotriges Project microsite.