Bournemouth University, with funding from the British Council, has helped in the knowledge transfer of pharmaeconomics to Egyptian pharmacists.
Egyptian pharmacists have come to Bournemouth University for a one week knowledge transfer project to boost Egyptian pharmacy studies and development. This is part of a two year British Council funded project between Bournemouth University and Egyptian institutions, including Cairo University. 
The team have come to BU to learn more about pharmacoeconomics – a discipline that compares and analyses drugs to find the best drug based therapies, at the best costs, for the most effective treatment of illness.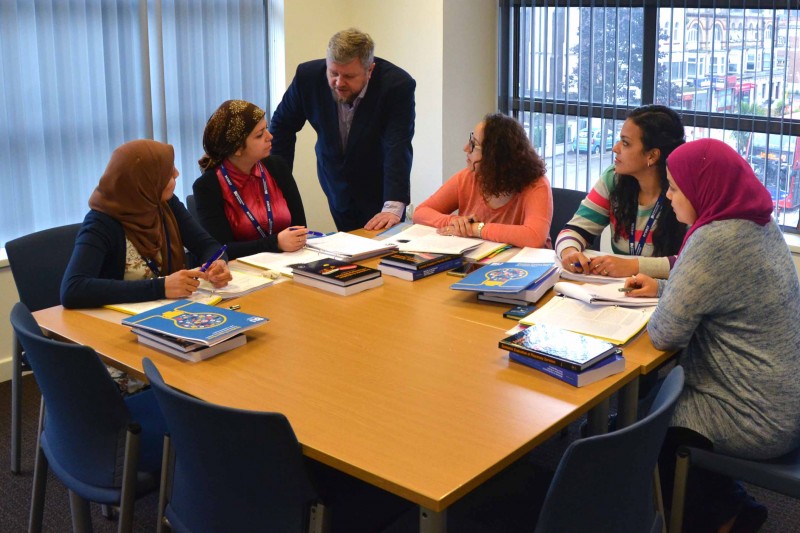 The primary objectives of the knowledge transfer workshop were to transfer important key understandings and studies, from qualified UK health economists to pharmacists in Egypt, in order to assist and guide them, in their professional activities in relation to pharmacoeconomics.
The knowledge transfer project was set up by BU Professor of Health Economics Dr Darrin Baines.
He said, "It is part of a wider programme of impact so the funding is to deliver a knowledge transfer partnership, this is the core training week. What we hope to do is to increase the number of Egyptian pharmacists who can understand pharmacoeconomics, to increase the number of Egyptians that can teach pharmacoeconomics in Egypt and increase the number of Egyptians who are involved pharmacoeconomics research.
"Essentially this project is bringing real world benefit to pharmacists in Egypt, creating long term impact for the field in the country."
Professor Stephen Tee, Executive Dean of the Faculty of Health and Social Sciences, said, "The British Council Bournemouth University programme supports knowledge transfer to Egyptian pharmacists through world class, research-based education that enhances their professional practice in pharmacoeconomics."
The workshop was attended by the Egyptian lead, Professor Samar Farid. 
Other senior delegates who attended included: Dr Amar Saad, Former Associate Minister of Health for Pharmaceutical Affairs. Researcher at the National Organization for Drug Control and Research (NODCAR),  Dr Mahmoud Elmahdawy, Director, Patient access & HEOR, Novartis Pharmaceuticals, and Dr Ahmed Abuelhana, Director of Consultation & Training Center, Misr University Science & Technology Park.
Work will continue between Bournemouth University, Cairo University and ISPOR Egypt to continue to provide impact in the field of pharmacoeconomics. 
Written by Alex Hayward, on work experience at Bournemouth University from Poole High School.