A campaign highlighting the successes of Bournemouth University graduates and students has launched at an event in Bournemouth.
BU's #BUProud campaign tells the stories of successful graduates and students, showcasing their careers to date, and their achievements that have stemmed from BU degrees.
The event was launched at Monty's Lounge in Bournemouth town centre, a restaurant owned by Bournemouth University graduate Christian Schneider. The event also featured a book signing by another BU graduate, Natalie Page, who was putting pen to paper signing copies of her debut children's book 'Zak and Jen's Astronomical Adventures'.
This year's #BUProud alumni include Richard Walker, Head of Media Planning at the BBC; Kevin Hough, Head of Talent Acquisition at PepsiCo, and Claire Timbrell, Founder of the McGuffin Project, an escape room in Bournemouth.
Current students involved in the campaign include Saskia Sills, a four time youth world champion windsurfer, and Noorin Gulam, a European champion weightlifter, both of whom are studying at Bournemouth University.
BU has a consistently high graduate employability rate, with data showing 93.6% of graduates in work or further study six months after graduating.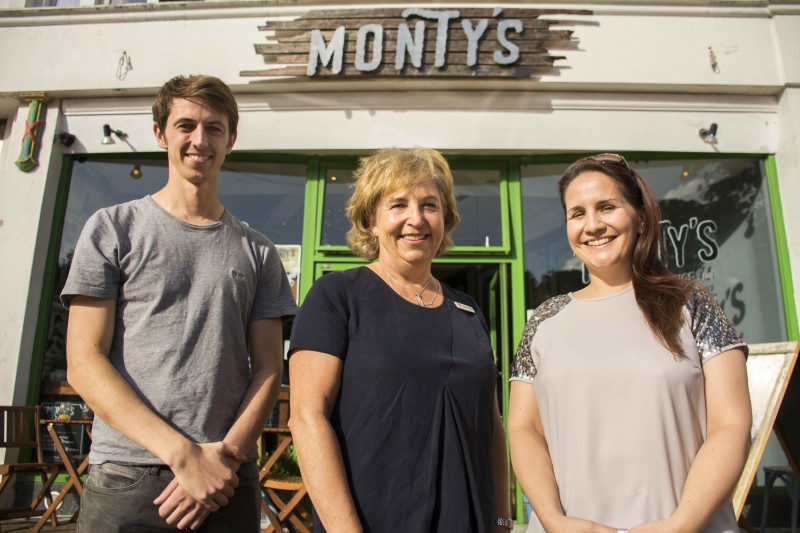 Ann Fernandez, Director of Marketing and Communications at Bournemouth University, said, "We are incredibly proud of our graduates and the careers they go on to have – and to hear from so many graduates who attribute their success to their time at BU has been brilliant.
"At BU we pride ourselves on creating global talent – giving graduates the skills and knowledge that employers are looking for. I hope this campaign inspires others to look at Bournemouth University and the great prospects a BU degree can offer."
The well-established #BUProud campaign has been running for over five years, with previous graduate stars used on the back of Unibus buses and across campus.
Ben Abberstein, Equality Partnerships Executive at AFC Bournemouth, also took part in the campaign as a graduate from the University's Advertising course. He said, "You create great friendships at university – I'd say it's been the best four years of my life – for both what I've experience, and what I've got back. The university keeps on improving but there is always a sense of nostalgia when I am walking down into Poole House."
Another #BUproud star – Katie Ryan – studied Children's Nursing at BU before going on to work at Great Ormond Street Hospital. She has now returned to BU as a lecturer. She said, "BU prepared me for my further studies and career… and now I'm back as a lecturer. I like the ethos of student experience being a priority."
The #BUproud campaign will be showcased across the university's campuses, both Talbot and Lansdowne, with window displays that showcase the graduates who have taken part in the campaign.
A new section of the university website has been created to showcase the successful graduates, with the profiles also showcased across BU's social media channels. For more information about the #BUproud campaign, and to read the stories of BU graduates, or to take part in the campaign, visit www.bournemouth.ac.uk/bu-proud