Brownsea Island in Poole Harbour was the venue for the first in a programme of new inaugural lectures by Bournemouth University (BU) professors which will take place across the new academic year.
The 2017-18 'Fusion Inaugural Public Lectures' is a series of seven free public lectures to be held at seven different venues across Bournemouth and Poole, showcasing the university's wide range of research and its impact both regionally and worldwide.
'Fusion' is BU's approach to combining high quality teaching, world-class research and extensive links with business and professional practice. In the most recent independent assessment of university research in the UK, 96% of BU research was rated as internationally recognised or higher (Research Excellence Framework 2014).
Commenting on the new Fusion Inaugural Lecture series, BU's Pro-Vice Chancellor for Research and Innovation John Fletcher said:
"Fusing research, education and professional practice is at the heart of what we do at BU and through our Fusion Inaugural Lecture series we invite the public to come and hear BU Professors from across all of our faculties present their research and see how it is enriching the world.
"We are inviting the public across Bournemouth and Poole to these lectures in a range of different locations from Brownsea Island in Poole Harbour, to the Shelley Theatre in Boscombe, as well as inviting the public to our new Fusion Building on our Talbot Campus and the Executive Business Centre on our Lansdowne Campus."
To launch the series Professor Robert Britton, from BU's Faculty of Science and Technology, presented his research on invasive species at the National Trust Visitor Centre on Brownsea Island in his inaugural lecture entitled ' Aquatic invaders: The truth is out there…"
The next lecture in the series will be held at Barclays' headquarters in Poole on Wednesday October 18, when Professor Jens Hölscher, from the Faculty of Management, will deliver his inaugural lecture entitled 'The effects of Brexit on the EU, the UK and Dorset – a migrant's account'.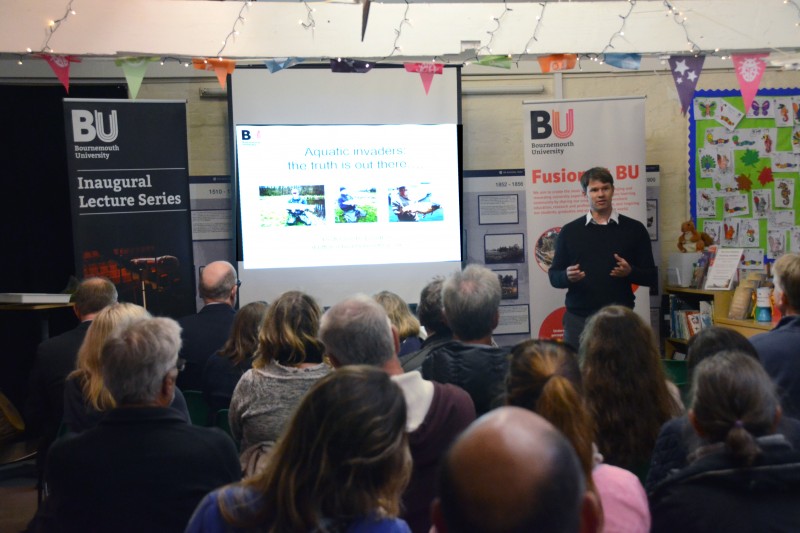 For more information about this event and to book free tickets to attend visit the public lecture series webpages. 
While all the events are free to attend, it is essential to register for a free ticket in advance for capacity requirements. All events are 18.30 for 19.00 start, with a lecture format for an hour followed by a drinks reception and conclude around 21.00. 
The full series of Fusion Inaugural Lectures 2017/18 is: 
Tuesday September 19 - Professor Robert Britton - Brownsea Island, Poole Harbour
Wednesday October 18 - Professor Jens Hölscher - Barclays House, Poole
Monday November 20 - Professor Tim Rees - AFC Bournemouth, Vitality Stadium
Tuesday December 5 - Professor Candida Yates - Bournemouth Highcliff Marriott Hotel 
Wednesday January 31 - Professor Debbie Holley - Fusion Building, Talbot Campus, BU
Wednesday March 21 - Professor Hugh Chignell - Shelley Theatre, Boscombe
Monday April 30 - Professor Jane Murphy - Executive Business Centre, Lansdowne Campus, BU 
Free tickets for each lecture will be released in the weeks before each event and individual booking information will be sent out about each lecture in the series. For more information on booking and to view previous lectures in the series visit the public lecture series webpages.