In her long and varied career, Kate Kinninmont MBE has reached the very top of her profession as a producer and director for the BBC and other media organisations. She is a Fellow of the Royal Society of Arts, a member of BAFTA, Directors UK, Women in Journalism and the Royal Television Society and was awarded an MBE in 2014 for her services to women in the television and film industry. Since 2007, she has been the Chief Executive of Women in Film and Television, the leading organisation for women working in the creative media in the UK. She describes her Honorary Doctorate, awarded by Bournemouth University today as "the cherry on the cake!"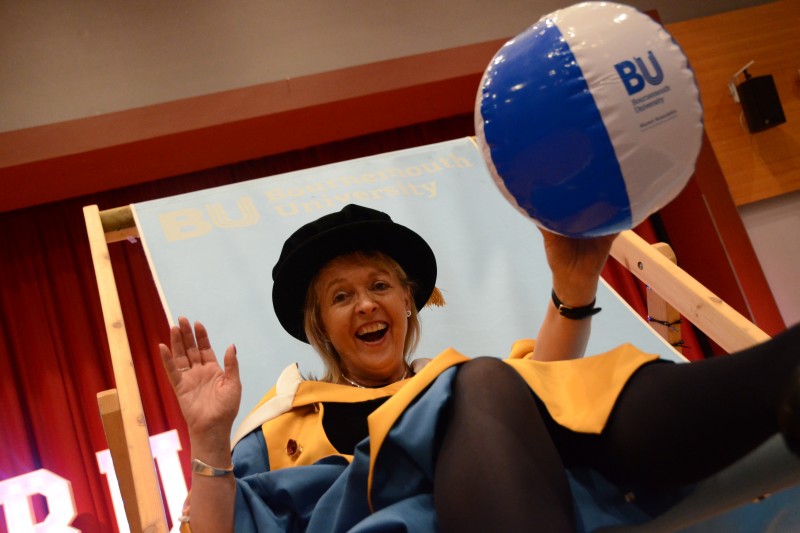 "I'm really excited to be here and to get an honorary doctorate from Bournemouth University - partly because I think the media department is absolutely brilliant. It's recognised globally so for me, that's a terrific honour."
Kate's career path began in Glasgow where she graduated from university and began teaching Adult Literacy, slowly moving into media work when the opportunities arose.
"I was doing a lot of stuff on radio and eventually the head of features said 'you've got a lot of contacts, you seem to be quite good on radio – would you like to come and work for us? That was the BBC in Scotland and then from there I became a producer, went into television, and literally I have been all round the world, meeting all sorts of amazing people, finding out all sorts of things, getting into places that most people don't actually see, because of this great job in the media where you where you are trying to get information and try and tell a story about something so that you can pass it on to other people."
"For the past ten years, I've been running Women in Film and TV, an organisation where we support, promote and celebrate women in the industry and that's really because so few women have risen to the top so far – we're working on that! But the great thing is that things are changing and all the young women coming out through university today that's not their education finished, that's really the beginning of something because we all have to keep learning and developing our skills. It is a life changing thing, to go to university and do a degree, and then the world is your oyster."
Kate has some useful, positive advice for graduates thinking of working in the media.
"I think one of the skills that I would say to students and graduates thinking of coming into the media, is that you have to be responsible for your own career path. You have to explore for yourself, to do the best in every job; and sadly, you often have to start in a rather boring job. If you're there making tea – make it the best tea ever! If you're photocopying, make it the best photocopying ever and people gradually notice. You also have to let people know if you want to move into new things."
"In a way, what university is teaching you is how to analyse something and how to write that up: how to take in knowledge, how to put that knowledge back for somebody else to see and  I think in a media job for example, it's all about the story. The story is the key thing. Whether you're doing a news item, or a documentary, or a drama; whether you're interviewing an old lady or a child who has just discovered something, it's all about story, and I think university helps people to analyse information and create a story around it."​