BU's graduation ceremonies started with the Faculty of Media and Communication.
Around 1,000 graduands took to the stage to receive their certificates alongside Honorary Doctorate recipients Kate Kinninmont MBE and Allan Little.
Graduates will now go on to work in industries such as public relations, visual effects, journalism and television.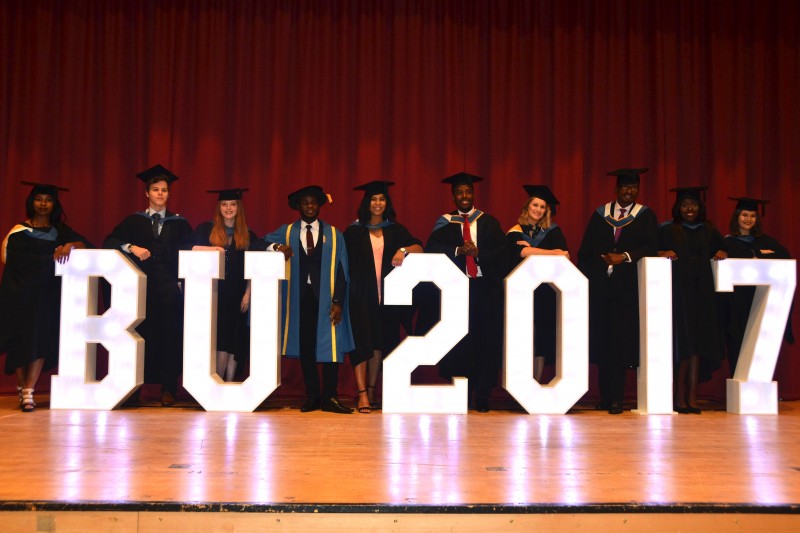 Professor John Vinney, Vice-Chancellor of Bournemouth University, said, "I am delighted to be here at the Bournemouth University 2017 graduation ceremonies. I am so proud of the achievements of all of our graduating students, they have done an amazing job, and its brilliant to be celebrating their achievements alongside their family and friends."
Allan Little is an award-winning broadcast journalist, who has reported from some of the most significant events of the last 30 years. As a foreign correspondent, his assignments included reporting on the fall of communism in Czechoslovakia and the Gulf War.  received Doctor of Letters.
Speaking to graduating students, Allan said, "Never grow cynical of the idea of the idea of the autonomous mind – no matter how old you get. Never give up the idealism of your youth and the idea that your generation will make the world a better place."
 
Kate Kinninmont MBE is a successful businesswoman and has enjoyed a long career within the creative media industry. Kate has been an integral part of Women in Film and Television for two decades, including being Chief Executive for ten years and remains at the forefront of supporting and encouraging women to develop their knowledge and skills. Kate received Doctor of Arts.
Kate also encouraged graduating students, saying, "For people coming out of university today, that's not their education finished, that's really the beginning of something because we all have to keep learning and developing our skills. ​"
As well as the students graduating, there were around 2,000 visitors cheering the students on, with a further 300 watching online, from as far as India, Egypt, the Netherlands and the USA.
BU's graduation ceremonies will continue this week, at Bournemouth International Centre, with over 3,000 students expected to graduate across the week.
For more information about BU's graduation ceremonies, visit www.bournemouth.ac.uk/graduation