Bournemouth University BA (Hons) Multimedia Journalism students picked up a trio of awards at the National Council for the Training of Journalists (NCTJ) Awards hosted at Hampton Court on Thursday 23 November 2017.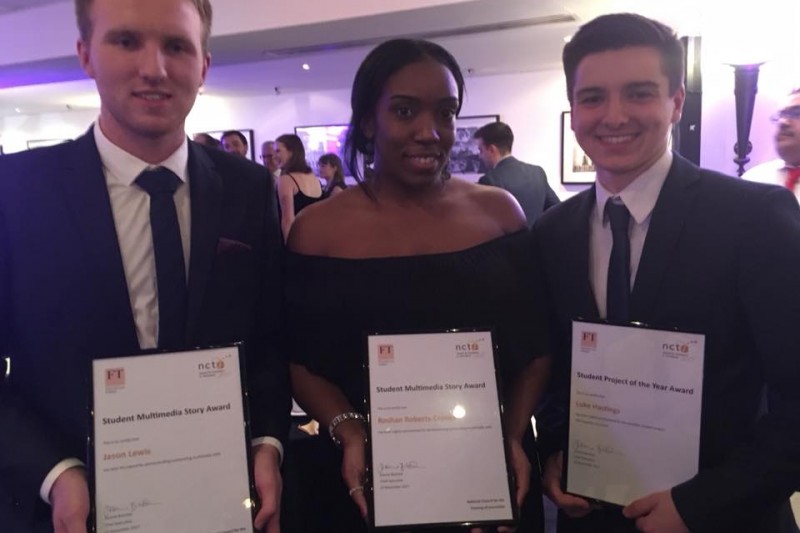 Three graduates were successful at the awards ceremony; Jason Lewis won the Multimedia Story/Campaign of the Year. Roshan Roberts-Crooks was highly commended in this category and Luke Hastings was highly commended in the extremely competitive category of Student Project of the Year.  
Staff from the Journalism team also won a new award for 2017, The Innovation Award, which celebrates innovation in journalism education training. This was awarded for the team's work on interactive documentary which was described as "a terrific example of old fashioned storytelling techniques translated through technology into a modern digital style".
Karen Fowler-Watt, Head of the School of Journalism, English and Communication, said: "These awards are a real testament to the high quality, multimedia journalism produced by BAMMJ students.
"It is also impressive that we are seen as leaders of innovation in journalism practice, where students and staff work together to find new ways of storytelling in a digital context."
Luke Hastings was highly commended for his work The Forgotten Survivors that was entered in the Student Project of the Year Award. He said: "I feel very proud to have been highly commended for my work. It's great to see it recognised.
"The project was challenging, but very rewarding. Thank you to my tutors, in particular Andy Bissell, for supporting me throughout it and congratulations to my colleagues and the university on their awards."
Roshan Roberts who was highly commended in the Multimedia Story/Campaign of the Year said, "I feel honoured to have been shortlisted and highly commended for my Multimedia project, covering a delicate and controversial subject of post-traumatic stress in abortion.
"The award demonstrated to me that the NCTJ champion diversity and understand the significance of creating a conversation with the audience on a multimedia scale.
"The evening was beautifully spent, surrounded by likeminded individuals that I'm sure will continue to pursue promising journalism careers."
Multimedia Story/Campaign of the Year winner Jason Lewis added: "It is a real honour to receive the award as recognition for my project and it is a personal high in my fledging career as a journalist. The project involved a lot of time and effort, and while I received praise from my fellow students and lectures for it, I never expected to win the award.
"I have to thank my tutor Andy Bissell for all his help during the project and also to my brother, who has given me untold support and backing in everything I do. The skills I learnt at university prepared me to go straight into industry and this award highlights the strength of the course."
Find out more about our BA (Hons) Multimedia Journalism and MA Multimedia Journalism courses.