The BJTC is the UK's largest industry-backed higher education training body for multiplatform, broadcast and mobile journalism. Nine winners were selected in categories including Best TV News Item, Best Radio Documentary, Best Website and Best Newsday.
Hannah Kane, who recently graduated, picked up the award for Radio News Feature for her work on Post-Brexit Hate.The judges said "Hannah has taken on a big and challenging topic, and through some exceptional case-studies does it justice; this piece really sheds light. It's insightful, informative, and emotional. Hannah's use of music and sound mixed expertly with her wide range of interviewees means there's never a dull moment."​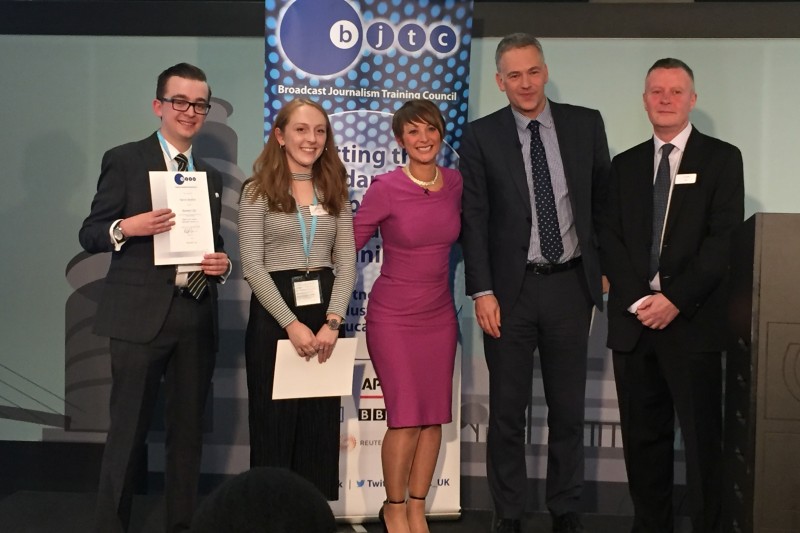 Final year students Daniel Sansom, Mark Briggs, Liam Baldock and Dan Dove were runners up for Website of the Year for their project on Paranormal Interactivity.
Liam said: "It was a real honour to be nominated for the award, especially considering the competition that was on offer.Most students there had their final year projects submitted and are all in big jobs now so hopefully we can be back next year and do the same.
He added: "It was also a pleasure to represent Bournemouth University at these prestigious awards, and also a thank you to a quality team of Dan, Dan and Mark who together made the whole project and day nothing but fun."
Broadcast Journalism lecturer, Lynda Smith, said: "Our students showed great passion, determination and creativity and that's what set them apart from the rest. We uphold very high standards to provide industry-ready journalists. The professionals were so impressed, they urged our winners and runners up all to apply for traineeships and jobs."
The event was attended by lots of industry partners including the BBC, Sky News, ITN, ITV, Channel 4, AP, Thomson Reuters, RadioCentre and the NUJ.
Find out more about our BA (Hons) Multimedia Journalism course.