Students from across BU's sports courses had the opportunity to hear from AFC Bournemouth striker Jermain Defoe and ask their own questions to the England footballer during a visit to Bournemouth University.
Jermain visited BU's Executive Business Centre and gave a guest talk to around 70 students, selected from BU's Sport Management; Sports Psychology & Coaching Sciences; Sports Development and Coaching Sciences; Physiotherapy; Nutrition; and Sport Therapy courses.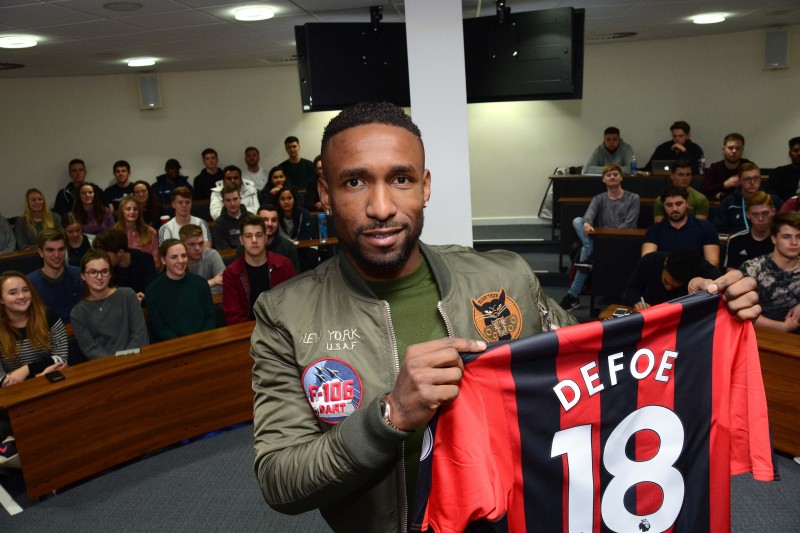 Jermain has had a long and varied career in football – beginning his career at West Ham United before going on to play for Tottenham, Sunderland and Toronto FC, as well as scoring goals for England's national team in three World Cup campaigns. 
He joined the AFC Bournemouth squad last summer – 17 years after he first joined the team on loan in 2000.
In conversation with BU's Head of Corporate Communications Mark Covell, Jermain spoke about his life and career to date – including the changes he's seen in football, particularly within sports sciences and their use in coaching, training, and recovery.
He also discussed the sacrifices he had to make for his career, influential figures, and recovering from setbacks and injuries both physically and mentally.
Students in the audience were given the opportunity to ask questions to Jermain on topics ranging from dealing with public pressure and scrutiny, to nutrition, coaching styles, and recovery techniques.
Dr Ian Jones, Head of Department for Sport and Activity at BU, said: "The partnership between BU and AFC Bournemouth gives students from a range of courses a unique opportunity to talk to leading figures in professional sport, which adds great value, and insight into their current studies and future career interests.
"Jermain Defoe's visit follows on from Eddie Howe's visit to the university last year and on both occasions students really appreciated the chance to hear in-depth insights from those working in sport on a global stage."
In an interview after the talk, Jermain gave his advice to those aspiring to work in the sports industry.
"I think if you've got a passion and this is what you enjoy doing, then you have to give it 100 per cent and give yourself the best opportunity to make that happen," he said.
"That's what I did – I didn't cut corners or go through the motions. At training I was always the one who stayed behind doing a little bit extra, even just for ten or 15 minutes. Just repetition and practice, and even if you just improve that one percent, you're moving forward."
BU is the official Higher Education Partner of AFC Bournemouth and the visit took place ahead of the BU Big Match on Sunday 17 December.
The match, at Vitality Stadium against Liverpool FC, showcases the opportunities and activities the partnership provides.
This includes chances for BU students to work as matchday ambassadors and media students to report on games and attend AFCB press conferences.