Bournemouth University's Katie Thompson is to be honoured in a ceremony as she receives the Freedom of the City of London.
The ceremony, on 18th December 2017, at the Guildhall in London, will recognise Katie for her work in the fields of conservation and zoology, and particularly her work looking at the conservation of elephants in South Africa and Kenya.
Katie, now a Research Assistant at Bournemouth University, was nominated by Dr John Smail, a Past Master of the Guild of Freemen of the City of London and a Liveryman of the Worshipful Company of Distillers.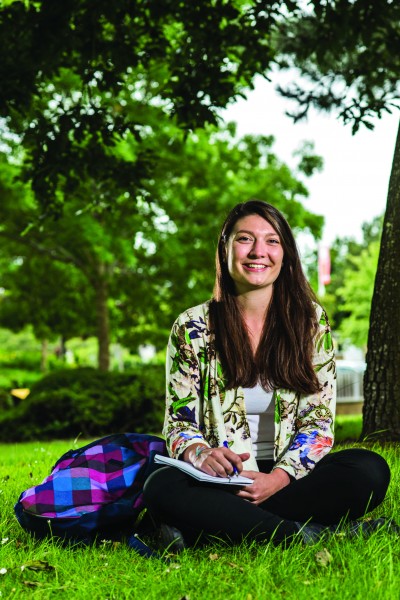 Speaking ahead of the award, Katie said, "I am delighted to have been nominated by Dr John Smail, I will use the award to link up my work in research and fundraising at Bournemouth University with the Corporation of the City of London and develop a close relationship between the two.
"Of course, I also hope that this will help to further public consciousness of the conservation work taking place with elephants in Africa and, ultimately, lead to their preservation and increase in the coming years as our research and work there continues."
The Freedom of the City of London is one of the oldest traditional ceremonies still in existence, with the first recorded recipient awarded in 1237, and includes a number of rights for those awarded. These include the right to drive sheep and cattle over London Bridge, to a silken rope, and to carry a naked sword in public."
Katie said, "I am yet to discover if elephants count as 'cattle' but look forward to joining a prestigious group of people who have also received this honour."
Professor John Fletcher, Pro Vice Chancellor for Research and Innovation at Bournemouth University, said, "It is important to us at Bournemouth University that our staff and students have a really positive impact on the world – in fact being out there, making a difference and enriching society is part of our core ethos. It is so pleasing to see this impact recognised by external bodies and we are proud of the work that Katie has done and this tremendous honour that has been bestowed on her as a result of her efforts."
Professor Genoveva Esteban, from the Department of Life and Environmental Sciences at Bournemouth University, and Katie's manager, said, "Katie's conservation work and research do not have frontiers, including numerous outreach activities to schools and other organisations, both in the UK and in Africa to promote animal conservation. This award is a reflection of Katie's dedication and passion for her work, and I can't wait to celebrate with her."
More information about Katie's research is available at http://www.wessexportal.co.uk/globalconservation/
For more information about the Freedom of the City of London, visit the City of London website.