The Awards, now in their eighth year, began with a talk from games creation legend Adrian Smith, who created the bestselling console smash hit, Tomb Raider in 1996. Adrian, now a director at Amuzo games, first explained a shift in gaming from the early disc-driven consoles of the 90's where his team could "indulge in the passions of whatever we wanted", to those of today where gaming has become an established and record-grossing mainstream industry.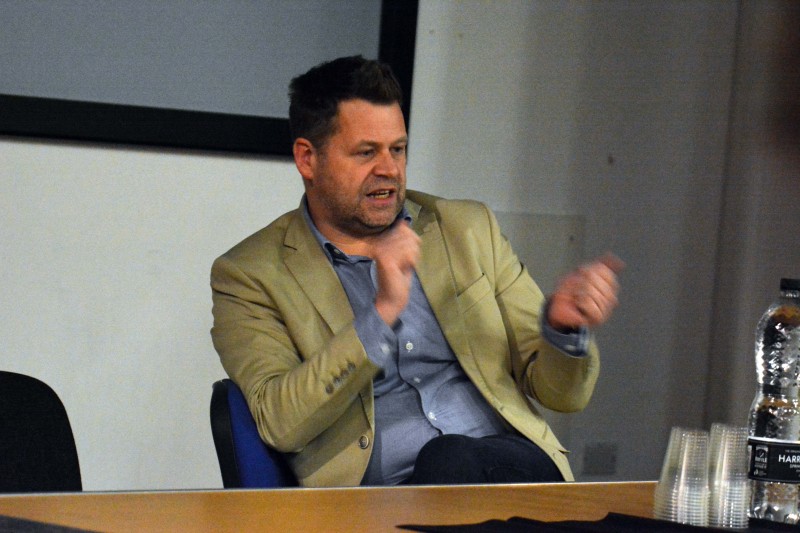 Throughout the talk, Adrian highlighted the ways in which consumers should always be left "wanting more", with an emphasis on interactivity and story, asking players to "return to the game time and time again."
Adrian said: "At every stage, there must be innovation. How things look, how they play and how users interact. Success is about retention and turning to games time and time again. Immersive experiences are what this is all about."
Dr Jim Pope, Event Organiser and member of the judging panel, introduced the first award, The Gorkana Cision International Journalism Award given by Dr Brad Gyori, Senior Lecturer in Digital Storytelling at BU. Brad outlined some of the interactive story concepts that were shortlisted before announcing winner Magdalena Chodownik, whose digital story piece, Lunik IX, looked at the lives of residents living in a soviet-era tower block in Slovakia.
Magdalena, a freelance photographer from Poland who appeared at the ceremony via skype, said of her win: "I think students should just go out and get it. Don't be afraid of experimenting with anything that you have, even if it's shot on a mobile phone – a mobile phone is actually a very good tool to use because you have all in one and you don't need to really invest in cameras, recorders, it's all in your pocket."
Peter Phillips, CEO of Unicorn Training, awarded the 2017 Unicorn Training Student Prize to Natasha Nunn, a student studying at the University of Alberta, whose work, Mary Rose, deals with a number of issues including bullying, loneliness and isolation through the form of a scrolling interactive narrative.
Chris Meade, Director of if:book UK and a member of the judging panel then awarded the Dot Award, a grant towards a developing project,  to French poet, Lou Sarabadzic, who said: "I'm really grateful because this has been a project that I've been thinking about for a while now and now to be able to do it and be encouraged to start is absolutely brilliant, so thank you so much."Chris detailed that the Dot Award was about enabling authors to begin on new projects still under conceptualisation or development: "The idea of the award is to give writers the freedom to come up with an idea and then in a years' time to hopefully come back and talk about what happened."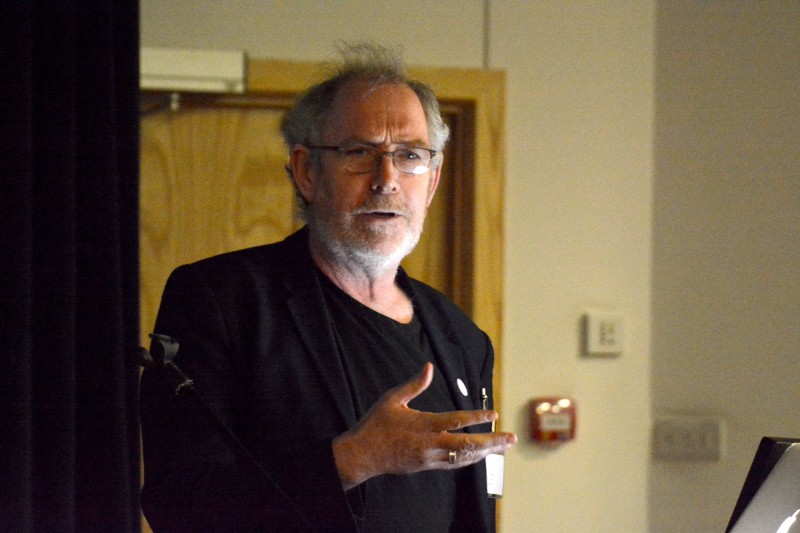 The audience also heard from previous Dot Award winner, Greek poet Theodoros Chiotis, about his proposal to make a multi-media performance in real time mixing autobiographical journal with machine-created data and the technical difficulties faced with the capture of big data over the course of a year in the life of the poet himself.
Closing the awards ceremony, The New Media Writing Prize 2017 was awarded to writer James Atlee and producer Emma Whittaker, whose work, The Cartographer's Confession, combines fiction and non-fiction and imagined and real locations to create a story of migration, loss, betrayal and retribution.
Judging the winner, Dr Jim Pope, Principal Academic in English and Communication, said: "This was a really interesting and complex piece. Set in London, it uses smartphone GPS technology to lead participants through the city. It's a story that you interact with on-location, moving around London. It was a really sophisticated and ambitious piece."
Commenting on his winning piece, James Atlee said: "This was totally interactive and it was great working with such a wide range of people, as well as the actors. It's been such a pleasure to see all of these different kinds of storytelling because that's what it's all about. It's been great fun for me to explore, but to see so many things here as well, it's been really great."
To read more about the 2017 shortlist, visit here, or to find out more about our BA (Hons) English programme, click here.