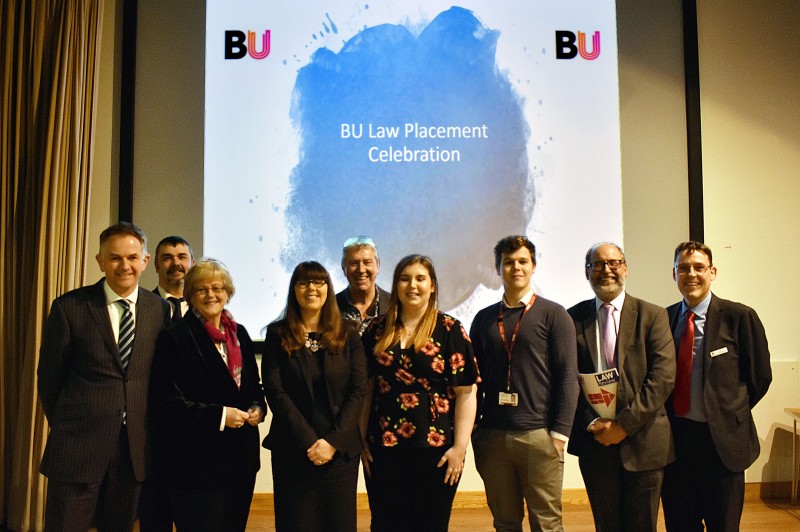 The evening, which recognised student's success during their 30-week placement experiences, saw presentations from current students on their placement experiences as well as graduates of the programme now working in industry.
Mike Wilmore, Executive Dean for the Faculty of Media and Communication, opened the celebrations by awarding final year student Alannah Jose the 'Department of Law Outstanding Placement Award'. This was in addition to Alannah having previously scooped the 'BU Annual Undergraduate Placement Prize', worth £500, recognising students who have made outstanding contributions to their placement employer during their sandwich year.
LLB Law student Alannah Jose was awarded the prize for her work with Victim Support. The panel awarding the prize commented "Alannah demonstrated an independent and creative approach to her work which clearly went above and beyond that expected of a placement student. She showed excellent communication and organisational skills and made improvement to practice. Her support of over 100 victims of crime is very impressive."
Sam James who is currently on a placement with Cranfield University's Legal Department reflected on his time so far with the organisation, "it's been a fantastic opportunity as the team I work in deal with over 2,600 agreements a year including contracts for research projects and agreements with organisations such as Rolls Royce and BAE Systems. It's taught me when to say yes and no to different situations, I'd thoroughly recommend it!"
Alumnus Tim Stone, Partner at Steele Raymond, then took to the stage to share his experiences having graduated twenty years previously. He said "Law is a hugely changing industry, but it's no different to other service industries, we have to remember that law is a service and we're providing that to our clients." Tim commented that what makes Bournemouth placement students stand out compared to others is their extraordinary approach and can do attitude.      
Recent graduate, Rosie Beaven, who is now working for Solomons Solicitors shared how her placement changed the way she approached her final year studies. Rosie commented "my placement taught me time management skills, but also case management skills – things that you can't learn just through theory. I learnt how to build rapport with a client to ensure you get all the required information. I needed a placement to provide these experiences and knowledge."     
The final speaker for the evening was Nick Bennett from Chichester District Council who has taken placement students from Bournemouth University for the past 14 years. He said "Bournemouth students are always great problem solvers, they're willing to roll up their sleeves and get under the skin of the problem to help solve it." He continued "Students can make a real impact on an organisation and help them grow."
Head of the Law Department, Sue Warnock, concluded the evening by sharing how the placement experience allow students to become the professional they'd like to become in the future.