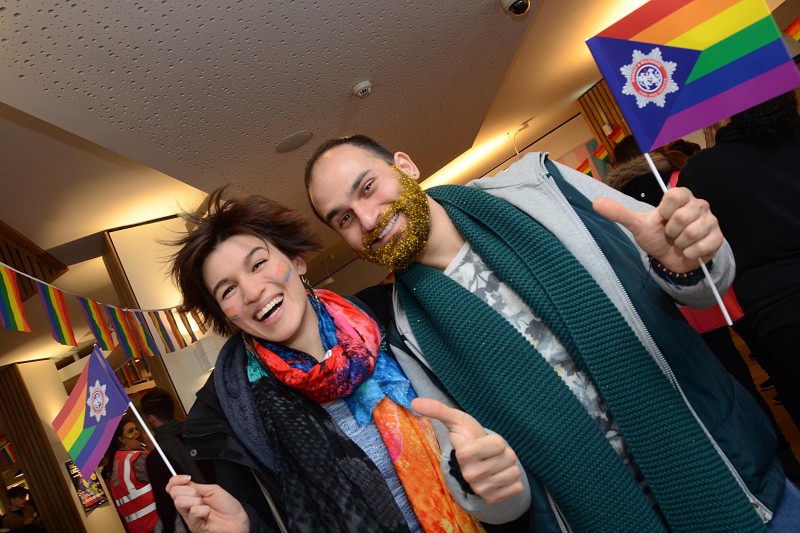 Staff and students from across the university community have joined together for SUBU's annual student pride event. The event, which is attended by staff, students and members of the public has grown year upon year, and this year featured a number of events alongside the parade itself, including live performances from the BU/AUB Performing Arts society, music, AFC Bournemouth's inflatable goal, and compering from drag act Lucinda Lashes.
 
More than 100 people took part in the parade itself, which began from BU's Student Centre, before heading towards AUB and back around to University Street and the Fusion Building. Among the crowd was SUBU VP Welfare, Charlie Souter-Phillips: "It's been amazing so far, we had to change plans last minute because of the weather, but it's turned out alright. We've got a lot more people waiting inside that wouldn't have done so outside as it's so cold."
 
She added: "The performances have been great, AUB has been amazing, and there have been more people than last year which is fabulous. It's so important to do events like this – the LGBT community, it's their big day, and they get so much from it; people can just be themselves. It is also where people can learn more, we've got different flags that explain all of the different gender identities and sexual orientations, so I think it's good for everyone."
 
Also attending the parade was post-graduate student Youssef Karaki, who is studying MSc Public Health: "I come to Pride because it's good to raise awareness so that people respect the LGBT community and have to share this pride, enjoy and be happy for who you are and spread love, not hate.
 
"We just want to tell people that we exist and that we want to be open. International students should come to pride to be proud of themselves and tell others that we are proud of ourselves and we are proud of any student from the LGBT community."
 
Dorset Police Constable Andy Scarratt of the University's Neigbourhood Policing Team, who oversaw the parade, said: "Although it was cold there was still a good turnout - even if people did walk a bit quicker to keep warm! Pride is a good event highlighting the diverse community we have on both university campuses."
He added: "It's a great opportunity for students to express themselves and remind everyone that the event is a celebration of the diverse community we have, not only in the Universities but in the town too." 
 
To read more about Pride at Bournemouth University, visit: www.subu.org.uk/bournemouthstudentpride