The 28 BU students, led by Physiotherapy lecturer Dr Osman Ahmed, spent an afternoon at AFC Bournemouth's Vitality Stadium to see how the medical team use state-of-the-art techniques and equipment to both train and rehabilitate players.
AFC Bournemouth's Head of Sports Medicine and Club Doctor, Craig Roberts, alongside first team Physiotherapist, Nick Court, took the group through a presentation about emerging technologies being used by the team together with clips of how physiotherapists employed a range of techniques to rehabilitate premier league players suffering from injury. The students then split into smaller groups where they spent time with Club Doctor, Craig Roberts, who elaborated on how ultrasound was being used at AFC Bournemouth.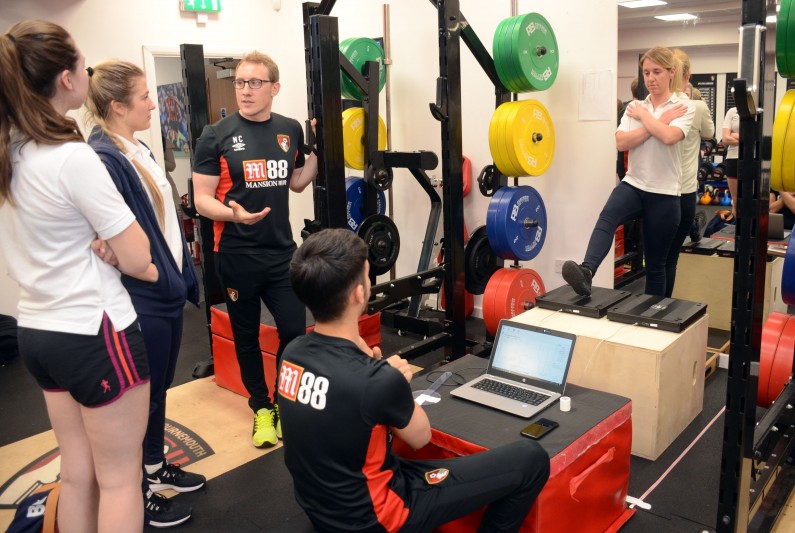 AFC Bournemouth Physiotherapists, Steve Hard and Jonny King, then gave a talk to assembled students about the range of exercises and recovery programmes undertaken by players, including a state-of-the-art anti-gravity treadmill, demonstrated by a BU student.
Students then moved to the gymnasium, where they were joined by first team Sports Therapists Dave Gardner, Matt Best and BU alumni Ben Donachie, who studied BSc Sports Science at BU before joining AFC Bournemouth as Lead Strength Coach in 2012. As a member of the sports science staff, Ben's role is to strength development of club players, from the AFC Bournemouth Academy, to the first team.
BU Physiotherapy lecturer Osman Ahmed said: "Our final year students are currently learning about innovation in physiotherapy, and so we were very grateful to be hosted by the medical staff at AFCB as part of this unit. Everyone at the club went to a lot of time and effort to show us some of the cutting-edge equipment that they use, including anti-gravity treadmills, diagnostic ultrasound scanning, and a wide range of muscle testing equipment.
"The students were also exposed to the cryo-chamber which is used for recovery. They had the opportunity to try it themselves and experience what -140 degrees Celsius feels like! All of the medical staff at AFCB were very approachable and open, and the students were able to fully interact and engage with them."
Speaking about the opportunity on offer for BU students, Osman added: "It was a terrific opportunity for the students to get an insight into the sort of equipment that is used at the elite sporting level and for them to be able to see some of the technological changes that are happening in physiotherapy.
"Although many of our students will go into the NHS to work upon graduation, having an awareness of the different treatment and diagnostic opportunities that are out there will broaden their horizons. Many of the students commented on what a great learning experience it was and it was definitely a day they will remember."
As Higher Education Partner of AFC Bournemouth, BU is able to offer a number of opportunities to students, from attending match days to working as an ambassador at the club, and currently sponsors the AFC Bournemouth ladies football teams.
AFC Bournemouth staff and players have also visited BU, including a talk from Eddie Howe to sports science students, and a talk from striker Jermain Defoe at BU's Executive Business Centre.  
To read more about BU's partnership with AFC Bournemouth, please visit the website.