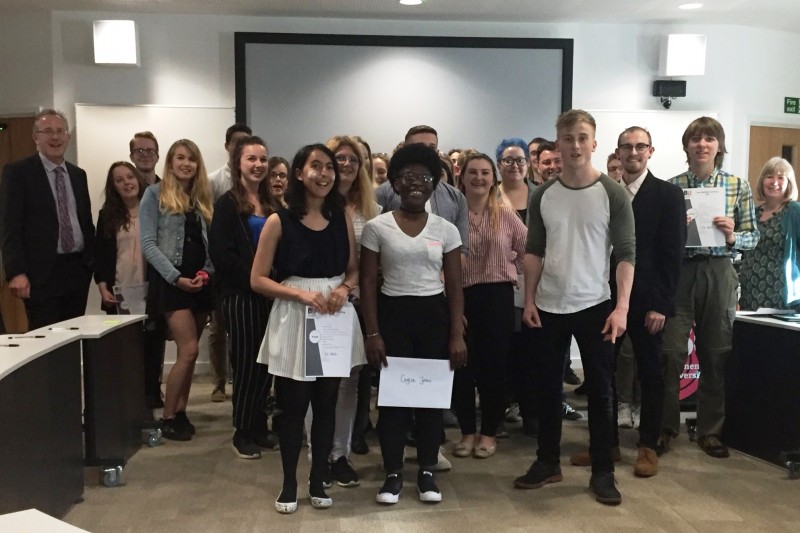 The hard work of our Peer Assisted Learning (PAL) team - whose contributions have supported thousands of students both during their transition to university and out to placement - were celebrated at an awards ceremony, hosted by Vice-Chancellor John Vinney.
PAL encourages students to support each other and to learn collaboratively under the guidance of trained students called PAL Leaders from the year above.
The ceremony saw BU's PAL Leaders, Placement PAL Leaders, Peer Support Leaders and staff who support the scheme, including PAL Academic Course contacts came together to acknowledge the hard work and dedication of those involved with the scheme. Special Awards were given to PAL leaders who had gone above and beyond - you can see the full list of award-winners here.
Reflecting on the success of the scheme, John Vinney commented: "I joined Bournemouth University back in 2006 and before I decided to join, I did my research and one of the things that stood out when I was doing that research was PAL."
"Here we are 12 years on, one of 55 universities across the UK who do it - and we do it very extensively across all of our undergraduate programmes, across all of our faculties. 305 PAL Leaders this year – a substantial undertaking, a substantial investment not just for the university but for all of you [the PAL Leaders] in terms of your time and your commitment."
"I think it's an impressive feature, it's great that you have all chosen to take the roles that you have within the scheme and it is certainly something to celebrate."
Michelle Morgan, Associate Dean for Student Experience in the Faculty of Media & Communication and researcher in student transitions, also attended the awards and highlighted the impact PAL leaders have on their students: "You are student educators and that's incredibly powerful because you can learn from individuals. It's probably one of the most effective ways of learning."
"I think that's so important for you, to actually remember not just the here and now, and the impact you're having, but all those wonderful and rich employability skills you're achieving through this role."
To find out more about PAL at BU, please head to the website. If you have benefited from attending PAL sessions and are inspired to support other students by becoming a PAL Leader yourself  please email [email protected] or speak to your Programme Leader or PAL Leader - more information can be found on the job description.
The Central PAL Team is also currently offering an exciting student placement opportunity for a current Level 5 PAL Leader to become the Peer Assisted Learning Intern for 18/19 – the application deadline is Monday 7 May 2018 – more information can be found in MyCareerHub.