Bournemouth University's Business School has successfully been awarded accreditation by AACSB International - The Association to Advance Collegiate Schools of Business (AACSB).
This achievement places the Business School at Bournemouth University firmly within the top institutions globally for business degrees with less than 5% of business schools that award business degrees worldwide attaining this hallmark of excellence.
Founded in 1916, AACSB is the longest-serving global accrediting body for business schools and the largest business education network connecting students, educators and businesses worldwide, all working towards the common goal of creating the next generation of great leaders.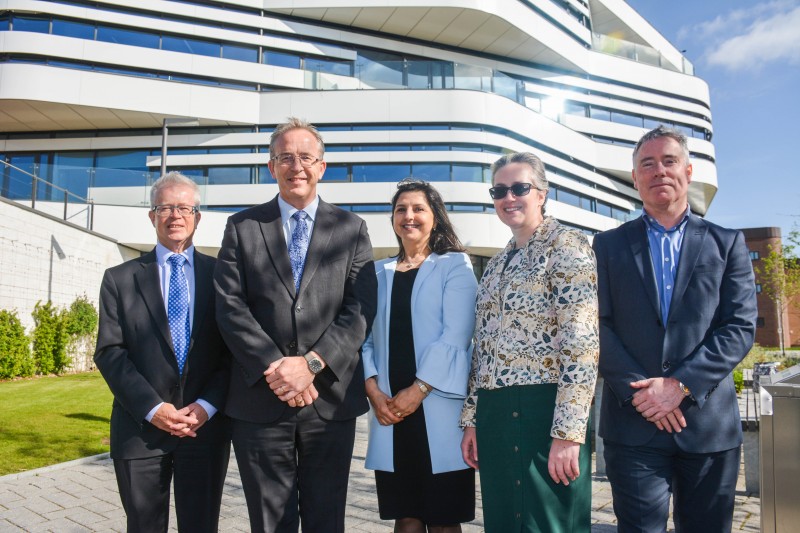 The rigorous accreditation process took over five years and involved a visit in April by Deans from American and Swedish universities as part of the panel review team visit. Staff, students, the Student Union and external partners were involved in the review, in order to capture multiple stakeholder perspectives.
The Business School successfully demonstrated that it met high standards of excellence across a wide range of areas through its focus on continuous improvement throughout its business programmes at all levels of study. The Business School is the first in the South West of England and only the sixth modern university (created since 1992) in the UK to receive the accreditation.
"AACSB Accreditation recognises institutions that have demonstrated a focus on excellence in all areas, including teaching, research, curricula development, and student learning," said Stephanie M. Bryant, Executive Vice President and Chief Accreditation Officer of AACSB International.
"Bournemouth University's commitment to earning accreditation is a true reflection of their dedication — not only to their students, alumni network, and greater business community, but to the higher education industry as a whole. Today's students are tomorrow's business leaders, and the addition of BU's Business School to the network of AACSB-accredited business schools will have a lasting positive impact for their institution, both locally and globally."
The accreditation will open up new opportunities for staff and students to collaborate with academics around the world and BU Business School graduates will have the added value of a degree from an AACSB-accredited institution.
Professor John Vinney, Vice-Chancellor and Chief Executive of Bournemouth University, said: "This is a fantastic achievement which places the Business School in an elite group of globally recognised and leading schools. It is further recognition of the outstanding staff and students that we have at Bournemouth University.
"This accreditation is renowned around the world as the gold standard for business schools. It fully acknowledges the breadth of our academic activities and achievements and the brilliant way in which we combine our research, education and professional practice in the pursuit of excellence and impact. Our Fusion approach clearly resonated with the assessment panel and provided an excellent framework for meeting their standards."
Executive Dean of The Business School, Professor Stephen Tee, added: "We are delighted to have been highly commended for the high levels of student employability, the strong emphasis on experiential learning and the collegiate and academically excellent environment created for our students, staff and external partners to work collaboratively."
He continued: "Any student who studies at the Business School at Bournemouth University will know that they will receive an education of the highest quality and future employers can be confident that graduates will have the knowledge and skills necessary to operate effectively in a highly competitive business environment, bringing a positive impact on organisational performance."
The panel review involved partners and organisational stakeholders of The Business School. The Chartered Management Institute (CMI) was one of these and Keith Richardson, Deputy Director HE Partnerships at CMI commented: "CMI have partnered with The Business School over the last three years, enhancing the student's experience and employability prospects.
"We were delighted to support the school's AACSB accreditation application and believe this recognition is a testament to the high standards and commitment of the university, its faculty and students. We look forward to continuing to develop our relationship with the university and supporting their continued success."