Bournemouth University (BU) and Santander Universities have renewed their partnership, signing a new three-year agreement on 8th May 2018.
The funding will be used to support BU students with a variety of projects, and means that since the partnership began in 2009, Santander Universities' support has now surpassed £1.1m in donations.
BU's Vice-Chancellor, Professor John Vinney, said: "I am delighted to sign the new contract; the funds will enable us to launch several new entrepreneurship activities for students in addition to continuing our very successful SME Internship Programme. Santander Universities has been so supportive of BU and our continuing journey, and I'm looking forward to working with them in the future."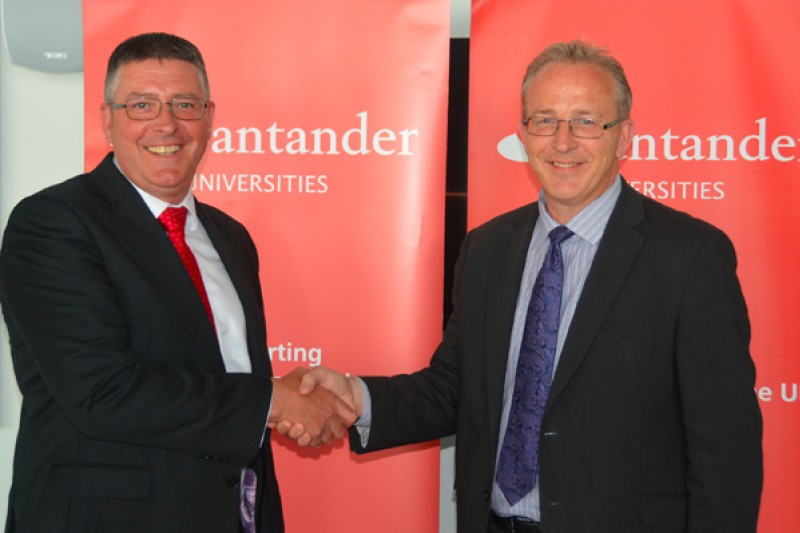 Director of Santander Universities UK, Matt Hutnell said: "Santander is committed to supporting higher education as well as local communities across the UK and we are proud to continue our partnership with Bournemouth University. Our agreement provides opportunities for students and staff to foster entrepreneurship and employability and we very much look forward to this relationship developing further over the next three years."
The milestone contract signing was celebrated with an event at BU for students, SMEs and staff who have benefited from recent grants. Students enjoyed the opportunity to network with senior Santander staff, and to question the Vice-Chancellor about future donations and support. Local SMEs which have benefited from the Internship Programme included Mr Lee's Noodles, Nuvuw, Scape Interiors, Comshows Event Management, and Ascensis Media.
Santander, through its Santander Universities division, maintains partnerships with over 1,200 academic institutions in 20 countries. Santander Universities was introduced in the UK in 2007 and the bank is already collaborating with over 80 British Universities and Higher Education Institutions, with agreements focused on promoting international exchange, entrepreneurial activities and the mobility of students and researchers within the network.