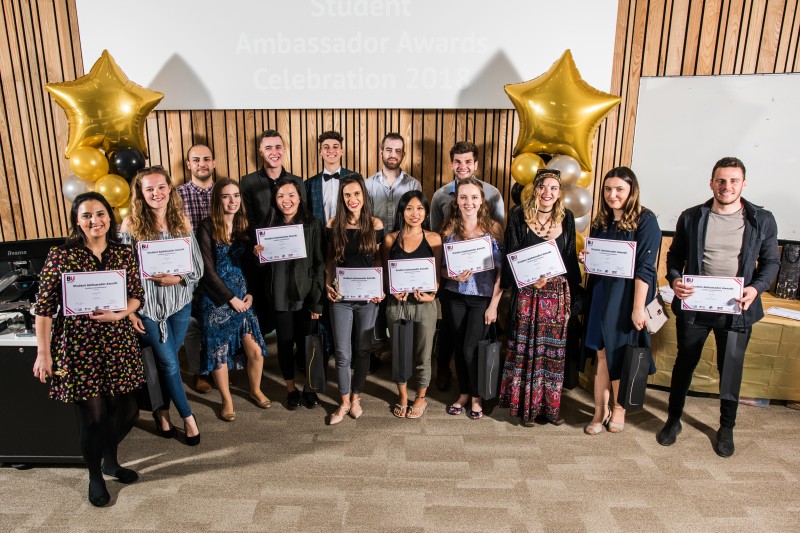 An awards ceremony recognising the outstanding work of around 70 student ambassadors was held in the Fusion Building last week.
Now in its third year, around 70 student ambassadors attended the event to celebrate the various achievements of their peers.
Dominic Keeley was named Student Ambassador of the Year and the Outstanding Newcomer Award went to Stephen Whalley – both of these categories were voted for by students.
BU graduate Sam Jones, who studied Advertising (BA) Hons and now works as Marketing Manager at Oystercatchers – a UK leading marketing management consultancy – presented awards to the winners.
Sam – also a student ambassador during his time at BU, mostly working in primary schools – shared his thoughts on the evening; "Being a student ambassador is a huge privilege; you're safe in the knowledge that not only are you helping other people, but also helping yourself by developing skills that will set you apart in the workplace.
"Although being an ambassador was challenging for me at times, it was also by far my most rewarding year at BU, and the best preparation for moving into full time work. The mind-set of being a student ambassador will stay with me forever."
Winner of the Student Ambassador of the Year Award Dominic said he felt "humbled" by the achievement. "It's been one of the greatest privileges to work with such an amazing team of people.
"To me, as ambassadors, we have the responsibility to break down barriers and influence younger people's direction in life for the better. That includes convincing those from disadvantaged backgrounds that they have the 'opportunity' to go to university, or helping prospective students find a course that suits them best. We share our university experience in ways that others can't.
"As ambassadors, not only do we represent what BU has to offer but more importantly, we act as a symbol for future generations that encourages them to follow their passions and dreams."
Full list of winners:
Student Ambassador of the Year:
Dominic Keeley (voted by students)
Outstanding Newcomer: Stephen Whalley (voted by students)
Primary Programme Award: Jasmin Willis
SUN Award: Lilla Halmai
Mentoring Award: Joe Bulman
STEM Outreach Award: Peaches Ashley-Watts
Outreach Award: Misho Rusanov
AskBU Award: Matthew Griffith
Future Students Award: Alice Boullier King
Recruitment Award: Jacob Smith
Open Days Award: Jacob Tully
HSS Award: Scott Bruce
Blogs and Vlogs Award: Danielle Gamage
International Ambassador Award: Andreia Daemon
Student ambassadors are an integral part of BU and their varied work supports programmes like the Books and Stories initiative, STEM, and Service Excellence, as well as their work championing Open Days, outreach, and recruitment events.