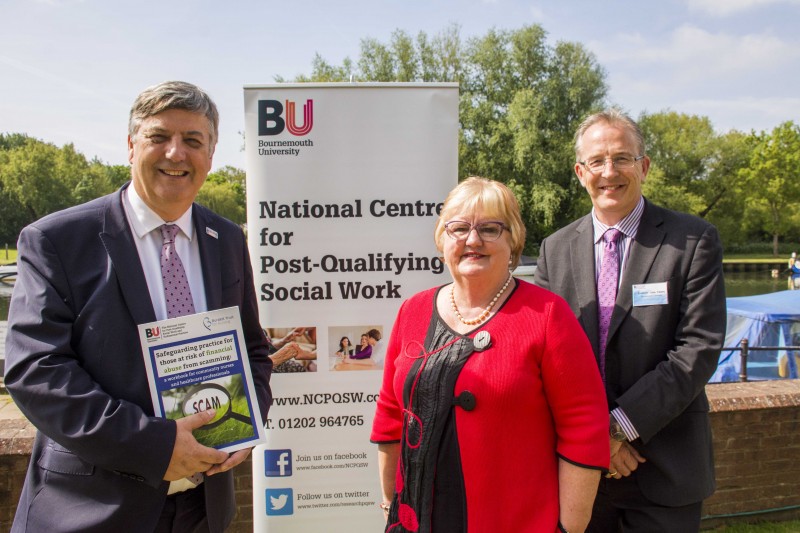 Bournemouth University's National Centre for Post-Qualifying Social Work and Professional Practice(NCPQSW) has launched a new set of learning materials  for community nurses and healthcare professionals targeting the work of scammers and the safeguarding of victims of financial abuse.
The workbook is supported by digital stories and a quick reference guide and has been developed in collaboration with the Burdett Trust for Nursing. It features a number of exercises for professionals looking at areas like the impact of scamming on health and wellbeing, mental capacity, scam typology and some of the psychological tactics employed by scammers.
Launched at the Captain's Club Hotel in Christchurch, guests included members of Bournemouth Borough Council, Age UK, Dorset County Council, the Care Quality Commission, NHS England, The Home Office and The Department of Health. Dame Christine Beasley, a Trustee at the Burdett Trust for Nursing also attended, addressing the audience on behalf of the Burdett Trust for Nursing who have supported the publication.
BU's Professor Keith Brown, Director of the NCPQSW, said: "Becoming involved in a financial scam can be a life-changing event. It's not just the financial loss but the negative impact on an individual's confidence and sense of wellbeing, including a loss of trust in others.
"This learning tool supports people who have experienced, or are at risk of financial abuse from scams. Although financial scamming has been a long-term social issue, it is only recently that the true range, reach and impact of personal fraud on health and wellbeing has been recognised."
The Centre is also working in a number of research areas, including a two year research project commissioned by the Burdett Trust for Nursing to investigate the impact of scam involvement. Work has involved collaboration with key partners from across the public, voluntary, financial and law enforcement sectors, including with the Chartered Trading Standards Institute which saw the Centre host a parliamentary reception, 'combatting cyber scams and financial fraud targeting vulnerable adults' at the Palace of Westminster.
Dr Sally Lee, Research Fellow at the NCPQSW, and co-author of the text, said: "Safeguarding adults is at the heart of person-centred care and working with people involved in scams, which includes important roles for all health and social care professionals.
"Supporting staff to develop the skills and knowledge required to recognise abuse from scans, including effective intervention strategies, is a vital way for organisations to meet their safeguarding responsibilities."
The launch comes as the work of the NCPQSW is being nationally shared in a campaign to highlight BU's contributions to training and provision of healthcare professionals and practitioners across the South region. Professor Brown, whose work also looks into areas of mental capacity, including lasting power of attorney and next of kin, will feature alongside other BU disciplines including Adult Nursing, Physiotherapy and Paramedic Science.
To find out more about the work of the NCPQSW at BU, visit: www.ncpqsw.com