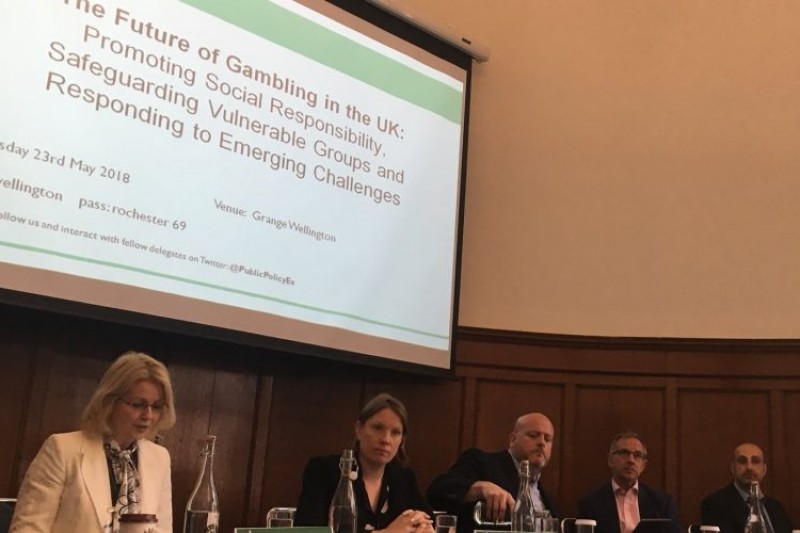 Gambling Operators to Provide Gambling Behavioural Data: a Call for a Policy Change
The EROGamb Project, funded jointly by GambleAware and Bournemouth University was presented at the Public Policy Exchange – Westminster Events on 23 May, 2018.
The full-day workshop discussed "The Future of Gambling in the UK: Promoting Social Responsibility, Safeguarding Vulnerable Groups and Responding to Emerging Challenges".
In a panel aimed at formulating a holistic national strategy, responding to emerging challenges and identifying priorities for action. Dr Raian Ali, the EROGamb project leader, presented "The EROGamb Project: Empowering Conscious and Responsible Gambling with Real-Time Gambling Data". Dr Ali advocated a policy change where online gambling sites start to provide gambling behaviour data to gamblers and their surrogates, both people and software, in a real-time and easy style. This is motivated by the importance of such data to predict and react to problematic gambling patterns and increase the conscious nature of gambling. Examples of similar facilities started to exist in mainstream digital media, e.g. Facebook – Download Your Information and Google – Download Your Data.
The panel included Tracey Crouch (MP, Minister for Sport and Civil Society), Professor Gerda Reith (University of Glasgow), Dr Jonthan Parke (Director, Sophro) and George Kidd (Chief Executive Officer, The Senet Group)