Four BU students are spending six weeks in Russia for the FIFA World Cup with Whistle.
Whistle, an Oxford based agency, has recruited a group of students, including four from BU, to attend the FIFA World Cup in Russia and help broadcast the World Cup across the globe. The talented students will spend six weeks gaining invaluable TV experience at the biggest sporting event this year.
Lauren Goddard and Jack Brooks, who are studying on the BA (Hons) Media Production course, and Megan Bennet and Olivia Jones from the BA (Hons) Television Production degree were selected following a rigorous interview process earlier in the year.
Megan spoke about her excitement ahead of travelling to Russia: "I'm delighted to have been given this opportunity; Russia isn't somewhere I ever thought I would get the chance to visit so this job is allowing me to learn about new cultures and visit a new country. I've not been away from home for a long period of time before so it's a nerve racking experience but I'm channelling all my nervous energy into preparing.
"As a footballer myself, I am really looking forward to experiencing the thriving industry of sports media at the World Cup. My money's on Germany to win!"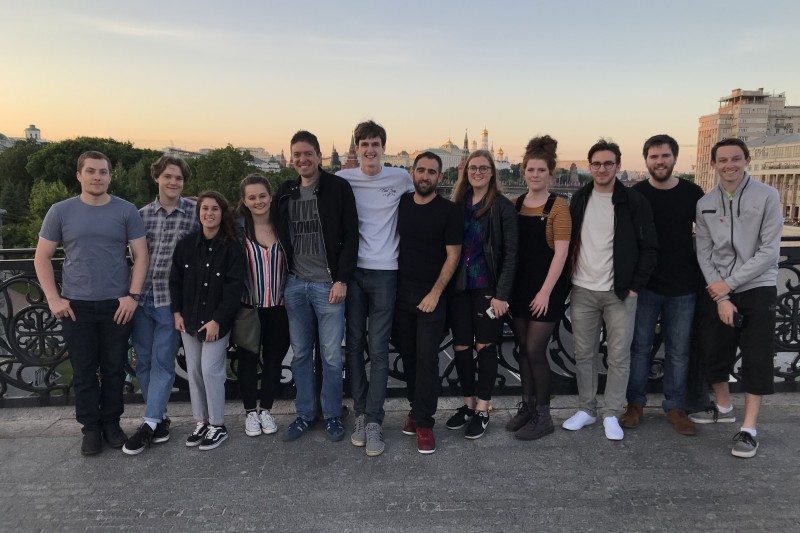 Whistle previously took 12 students to Brazil to support on the last FIFA World Cup, an experience that helped them to develop successful careers in TV. One of the BU alumni who secured a place on that trip, Toby Jenn, now works in football broadcasting for IMG and will also be in Russia for this year's FIFA World Cup.
Steve Webb, Programme Director at Whistle, said: "Once again I was impressed by the calibre of the applicants from Bournemouth University. We had a very strong response and have selected a talented team to go to Russia for the FIFA World Cup.
"For students with an ambition to work in sports broadcasting, the opportunity to be part of the production of a Football World Cup is second to none. Many of the Bournemouth students that came to Brazil with us four years ago have gone on to find work at international production companies as a direct result of their World Cup experience and I hope the class of 2018 will have similar success."
He added: "We are delighted to be working with Bournemouth University again and hope to come back in 2022 for the next FIFA World Cup."