The Royal College of Midwives (RCM) has awarded Bournemouth University midwife Dr. Susan Way with an RCM fellowship.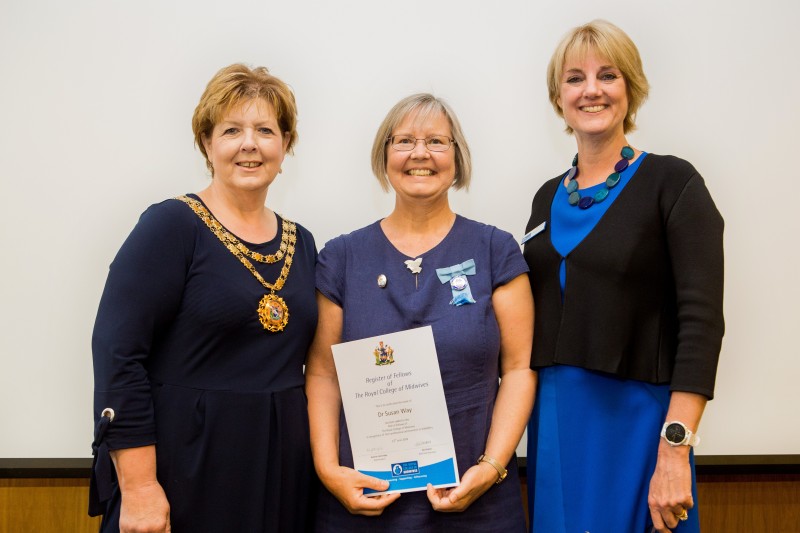 The RCM's Fellowship scheme recognises individuals who provide exceptional leadership and deliver excellence in practice, education or research.
Dr. Way throughout her career has spent over 30 years working in midwifery practice, education, research and regulation.
She spent eight years employed at the Nursing & Midwifery Council (NMC) working on a variety of projects including developing standards for midwifery education, practice and statutory supervision.
She gained her PhD in 2007 at Bournemouth University and returned to working in education in 2009 taking up the role of Lead Midwife for Education.
Susan is already a senior fellow of the Higher Education Academy and associate professor.
Currently she enjoys supervising doctoral students at Bournemouth University whose research is closely linked to practice, where they work two days a week clinically as part of a four-year full time clinical academic programme. Previously, Susan has chaired the LME UK Executive and the RCM Board.
She said: "I feel honoured to be awarded the fellowship and the recognition that it gives to the work I have undertaken during my career to support the education of future and current midwives."
RCM President Kathryn Gutteridge said; "All of these midwives demonstrate the passion and dedication of the midwifery profession. They are all working tirelessly to push knowledge forward, to improve the profession and ultimately, to enable midwives to deliver even better care to women, babies and their families.
"Midwifery education is such an important area and midwives like Susan are instrumental to our profession as well as inspiring. I wholeheartedly congratulate Susan on receiving her honorary fellowship."