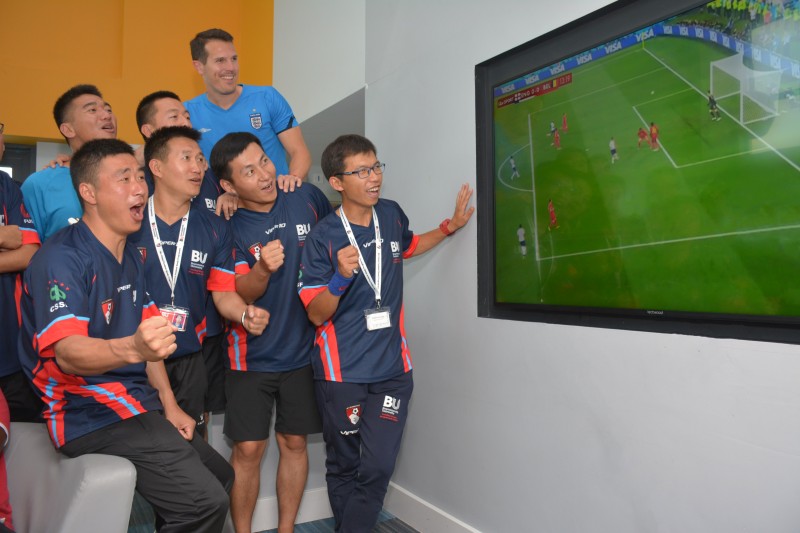 Chinese football coaches are currently training in the town with Bournemouth University, AFC Bournemouth and Dorset FA as part of the British Council's FA-accredited China UK Football Study Programme, and China's bid to win the World Cup by 2050.
The coaches will spend the summer studying at BU and Dorset FA, receiving specialist training to improve practical skills and theoretical knowledge from both the university and Premier League football club, AFC Bournemouth.
FA international coaching qualifications will be delivered by Dorset County Football Association (FA) and AFC Bournemouth Community Sports Trust team at Hamworthy Football Club in Poole.
Out of 35 Universities that bid to take part in the China UK Football Study Programme, BU is the only university to have hosted the programme for 3 years consecutively, this year hosting alongside Manchester and Swansea universities. The recent continuation of a Higher Education partnership between AFCB and BU in May has been incremental in achieving a successful bid for the programme, which is now entering its fourth year.
BU celebrates increasing links with organisations in China, and the announcement of this year's programme was made during BU's global Festival of Learning, which took place in three locations across China in March 2018.
Dr Sonal Minocha, Pro Vice-Chancellor (Global Engagement) at Bournemouth University, said: "We are delighted to have been chosen to deliver this training programme for the third consecutive year, allowing us to deepen our growing relationships in China. We look forward to welcoming a new cohort of Chinese coaches to Bournemouth this summer, and exploring further ways in which we can work together to support the future development of football talent in China."
Jim Andrews, Chief Operating Officer at Bournemouth University, added: "It has been brilliant to get to know the coaches who come to campus, many of whom retain links with the people they meet while they are here. We could not deliver this training without our partners too, including Dorset FA and AFC Bournemouth, and we're really excited to be working together to deliver this training programme over the summer."
Last year, as part of their visit, coaches took part in a number of activities throughout their three-month visit, including a visit to St. George's Park, home of England's 24 national teams, and a trip to Wembley Stadium to watch the FA Community Shield football match between Emirates FA Cup winners Arsenal and Premier League champions Chelsea.
 BU academics will lead a series of lectures and seminars which look at the psychology and underpinning principles behind coaching and management, supported by practical coaching and conditioning sessions from BU's sporting activity team, Sport BU.
Speaking about the study programme as it was announced in March, AFC Bournemouth chairman Jeff Mostyn said: "AFC Bournemouth has been involved in this coaching programme from its inception in 2016 and values the relationship we have with the university. As a club we devote hundreds of hours a week to coaching at every level; from Premier League to development squad, and academy to our tireless work within the local community. We are delighted to be able to pass on some of these coaching techniques through this formal training programme."
The Chinese coaching study programme forms part of the China State Council's plan to boost the development of football in the country, with aims to train 50,000 full-time and part-time football coaches by 2020, using the UK's expertise and resources to help football coaches from universities and colleges across China learn about the UK's approach to football management, technical skills, theoretical knowledge, capacity to train young people, increasing China's football competitiveness.