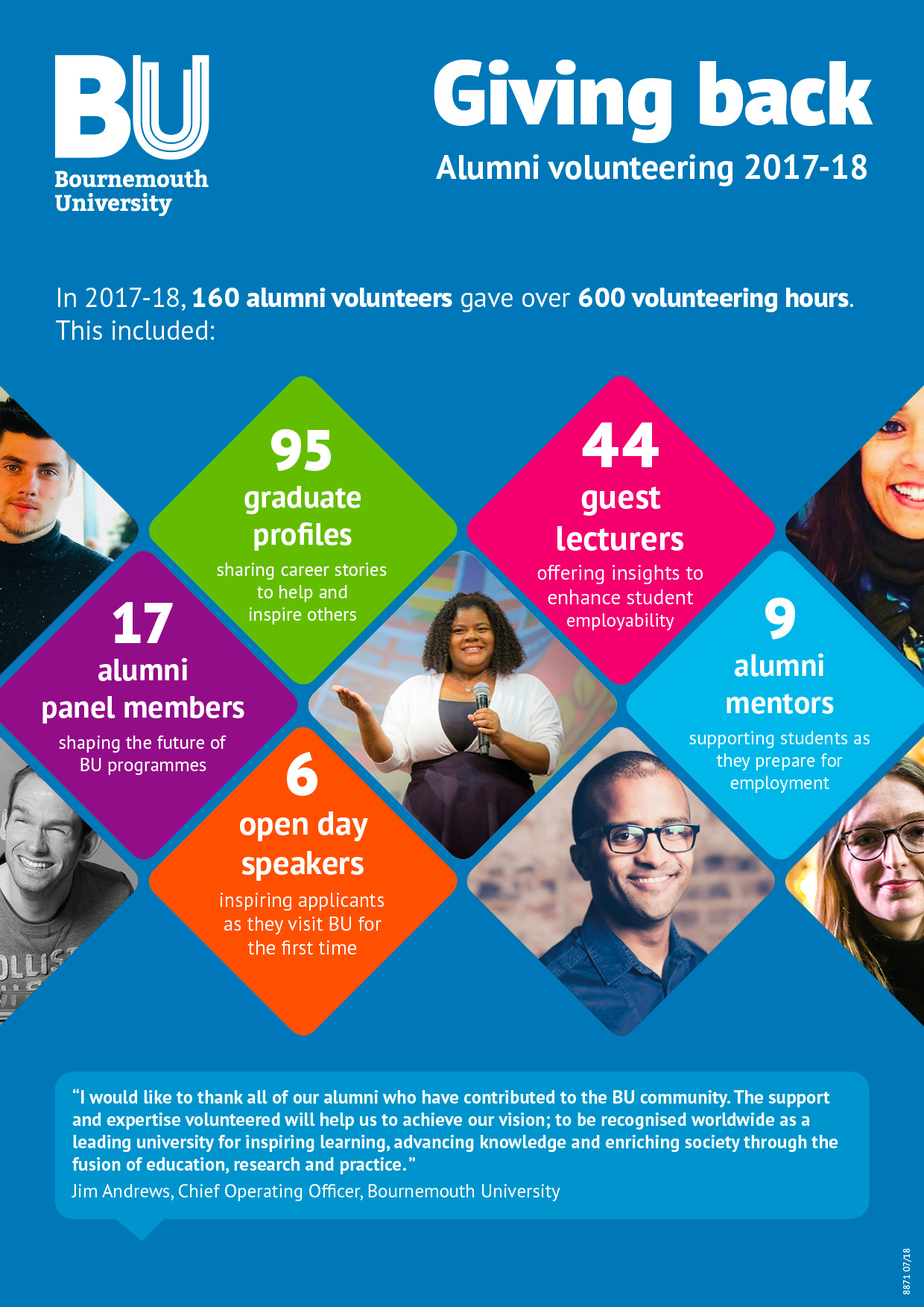 BU alumni have contributed more than 600 hours of volunteering during the 2017/18 academic year.
The figure represents contributions from 160 volunteers, who have supported activities including giving guest lectures, sharing graduate profiles and speaking at open days. A total of 17 alumni have joined advisory panels to help shape the future of BU programmes, while nine joined our first alumni mentoring programme.
Our volunteering programme seeks to match graduates' skills and experiences with opportunities that enrich the student experience and enhance student employability. Volunteering is tracked by the Alumni Relations Team as a measure of engagement and impact.
Jim Andrews, Chief Operating Officer, said: "I would like to thank all of our alumni who have contributed to the BU community. The support and expertise volunteered will help us to achieve our vision; to be recognised worldwide as a leading university for inspiring learning, advancing knowledge and enriching society through the fusion of education, research and practice."
Feedback from volunteers also shows the value of getting involved, from building new connections to developing new skills. Gemma Whates, HND Advertising and Marketing Communications graduate, and founder of Allbymama.com, said: "I recently returned to BU to take part in a Facebook Live about female entrepreneurship. It was an absolutely fantastic opportunity. It has broadened my network and given me the chance to share my story and to hear others' stories. It has been great to stay connected via the alumni community."  
If you are a BU graduate who would like to get involved, complete our online form. If you are a member of academic staff wanting to involve alumni in the delivery or promotion of your programme, please contact [email protected].