The study also recommends, among other measures, establishing collaborative media networks, facilitating specialist skills for journalists, and absorbing post-disaster reporting as an essential part of the media curricula at university level.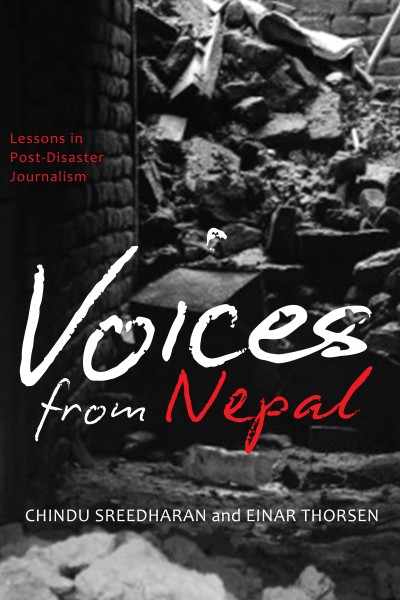 "In the three years after the earthquakes, the national disaster preparedness of Nepal has seen significant strides," said Principal Academic in Journalism & Communication, Dr Chindu Sreedharan, who co-authored Voices from Nepal: Lessons in Post-Disaster Journalism with BU colleague, Dr Einar Thorsen.  
"But perhaps not enough attention has been paid to the role of news media in post-earthquake Nepal, and the crucial contributions journalists can make to the disaster resilience of the nation as a whole. Our goal was to understand the issues that journalists faced, and, importantly, plot what their requirements are for future."
Voices from Nepal: Lessons in Post-Disaster Journalism, published by BU's Centre for the Study of Journalism, Culture and Community, will be launched at the Yala Maya Kendra, Lalitpur, Kathmandu.
In the first section of the book, titled Shock and aftershock: mapping the post-earthquake challenges of Nepali journalists, the authors elaborate on their findings and offer solutions, drawing on interviews with Nepali journalists and other communicators, as well as earthquake survivors.
They also highlight several key strengths of the Nepali news media. "Journalists in Nepal were not merely journalists—they were survivors first, journalists second. But despite the traumatic situation, the Nepali media also showed some great resilience," said Dr Thorsen. "They found workarounds to continue with their professional duties, and there were many good examples of empathetic editorial leadership."
The authors place the challenges Nepali journalists faced into three broad categories and offer specific solutions to each. One key recommendation they make is that the scope of disaster training be widened—currently it is largely limited to ensuring physical risk mitigation—to include considerations that would help journalists identify key issues in the different phases after a disaster and sustain post-disaster journalism across time.
The study underlined investigative techniques, data skills, and training in financial journalism as key areas that could strengthen post-disaster reporting.
"Training and capacity building in these areas are needed to strengthen resilient journalism," Dr Sreedharan. "Programmes should be developed keeping in mind the cultural and news requirements of Nepal, with direct involvement from Nepali journalists and journalism bodies. Crucially, such programmes should go beyond being episodic—they need to be sustained, over time."
Find out more about the Centre for the Study of Journalism, Culture and Community, (CSJCC) here.