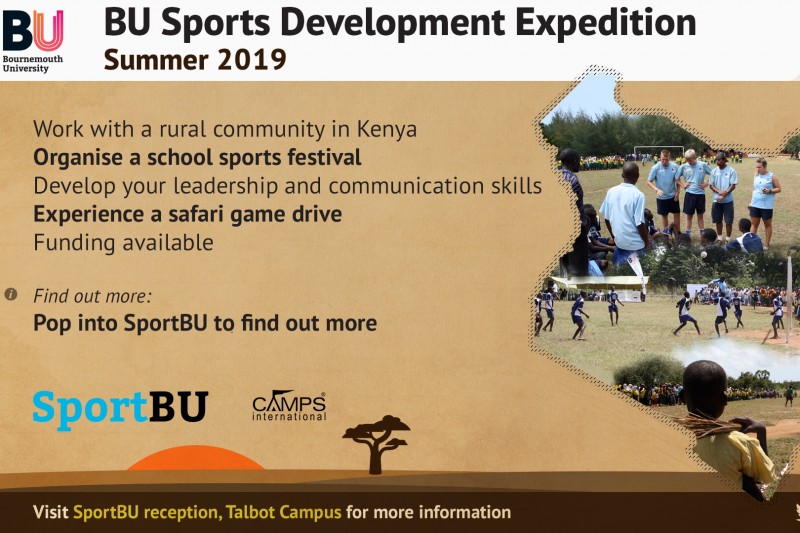 SportBU are joining up with Camps International again this year, offering students the opportunity to work with rural communities in Kenya to develop a sports festival in a local school. If you're interested in taking part come along the presentation evening on Thursday 27 September at 7pm, in the Inspire Lecture Theatre, Fusion Building, Talbot Campus.
Barry Squires from SportBU, explains: "This is a fantastic opportunity for any BU student to experience something many of us will never have the chance to. We're looking for students who are enthusiastic, motivated and want to develop themselves as global citizens. There's no set limit of the number of students who can go, and we welcome applications from students of all backgrounds and courses. There may also financial support available to help make this possible."
Zoe Moyler, who took part in the 2017 expedition shared: 
"For me, the month in Kenya truly was a life changing experience! The expedition taught me invaluable lessons in life; understanding the true value of giving without expecting to receive, fully appreciating the culture you are immersed in and simply living in the moment. As well as this, the expedition has taught me to embrace life and take risks, as we take for granted the everyday opportunities given to us. Whilst being in Kenya, I was lucky enough to meet some of the most amazing people, and make true friends for life. Knowing that the time I spent in Kenya has made a difference is the most rewarding and heart-warming feeling, and the children that I worked with have also left a huge impact on my life! Quite simply, my time in Kenya was the happiest month of my life and I cannot recommend it enough."
Watch the video to hear about the experiences of BU students who have had the chance to go on the Sports Development Expedition. You can find out more about SDX 2019 by contacting Barry Squires in SportBU or visiting the website.