The International Commencement Ceremony (ICC), held at the Bournemouth International Centre (BIC), saw more than 500 students from over 100 countries across the world welcomed to the town by a host of local dignitaries and university staff.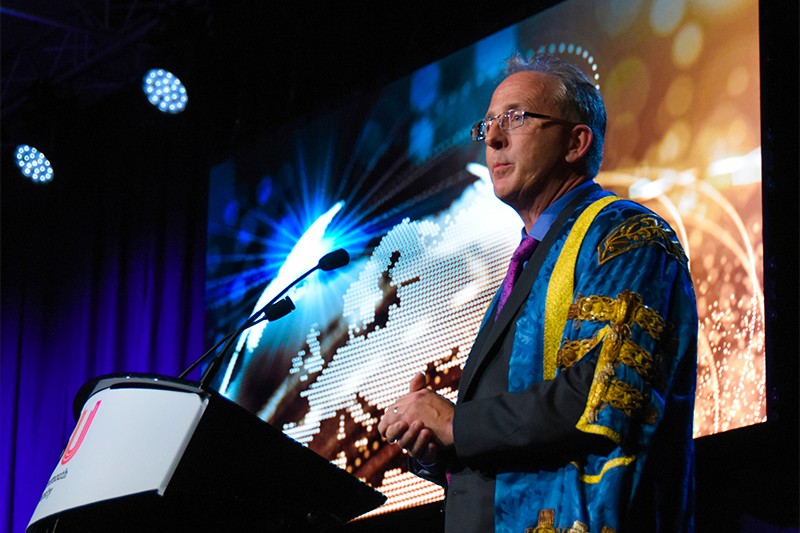 The formal event saw BU Vice Chancellor Professor John Vinney, members of the university's board, executive team and academic faculty members take to the stage in ceremonial graduation dress before joining students at their tables for an evening three-course meal.
Dr Milena Bobeva, Principal Academic and Associate Dean of Global Engagement at BU, led the ceremony, before speeches from Professor John Vinney, Angus Campbell Esq, Lord Lieutenant of Dorset, Ade Balogun, President of BU Students' Union, SUBU, and Conor Burns, MP for Bournemouth West.
Professor Vinney said: "I'm particularly pleased that we have so many distinguished guests from the local community here to welcome students to the region in person. It just goes to show what a fantastically friendly and welcoming place Bournemouth is.
"This year, more than 2,000 international students will have travelled here from around the world and chosen to study in the UK, but no other university in the UK welcomes their students in this manner, so that makes the International Commencement Ceremony unique and truly special."
Addressing the students in his welcome speech, the Lord Lieutenant said: "As Her Majesty the Queen's Lord Lieutenant for Dorset, it is my particular privilege to welcome you all to the United Kingdom, and in particular to our wonderful county of Dorset.  I'm quite confident that you will enjoy your stay and your studies in this, our most beautiful and vibrant of counties, which is renowned for its magnificent Jurassic coastline."
Also in attendance was SUBU President, Ade Balogun: "It's my pleasure to be standing this evening addressing my fellow students. As an international student, moments like this mean a lot to me, because we've come a long way to have an amazing journey at BU. I started to make new friends by attending SUBU events just like the Fresher's Fair, and got involved with the Students' Union, and got elected as the second international student to do so."
Conor Burns, MP for Bournemouth West, said: "It is a particular pleasure to follow the President of the Students' Union, and you could not ask for a more graphic representation of how welcome all of you, as international students, are here in Bournemouth. In recent years, there has been this very important ceremony which I'm delighted is a part of my civic life here in Bournemouth."
Students were then served a three-course meal before a speech from BU Honorary Doctorate recipient, Kate Kinninmont MBE, CEO of Women in Film & Television UK. Kate elaborated upon her varied work across the film industry and her life growing up in Glasgow, before looking at some of the challenges facing young people in 2018.
Kate, who took up her honorary title from the university in 2017, also spoke of how students would, in later life, talk about their experiences at university, imploring them to work hard, enjoy themselves and explore new possibilities.
She said: "This is a fantastic occasion for me because I absolutely loved receiving the doctorate from BU last year, and now I've got the chance to put on this magnificent gown again. I'm really pleased to be able to do the commencement speech for all of these young people who have come to university from all over the world. Many of them will be feeling lonely and that they might not belong, but what I'd like to do is make them feel at home here in Bournemouth."
To read more about global opportunities open to students, visit https://www1.bournemouth.ac.uk/global-bu.