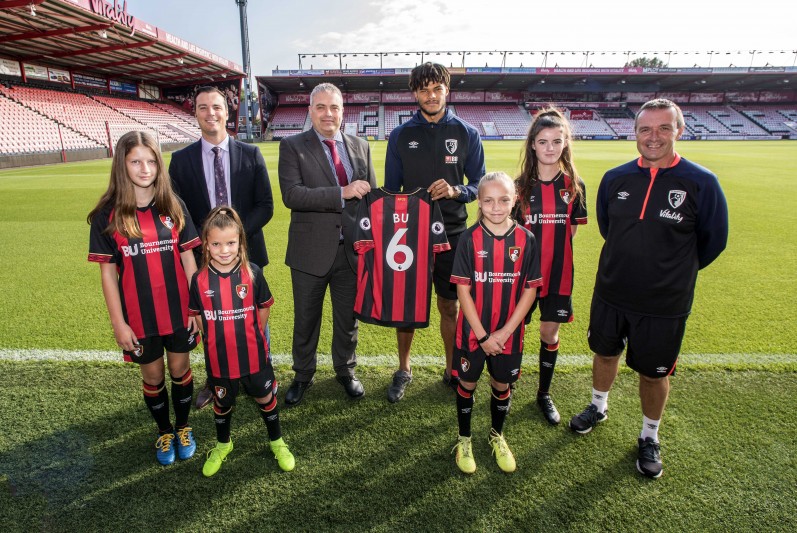 Bournemouth University (BU) will continue to support the club for another year, as AFC Bournemouth (AFCB) continues to break club records in the top tier of English football. The club, who is currently enjoying its best Premier League ranking since promotion to the top flight in 2015, has long established links with the University, which began while the club competed in League 1.
BU's partnership with Premier League club AFCB is to continue for another two seasons, building on links already in place between the two organisations. The university will also be supporting the development of girls' football in Dorset as the main partner of the Under 10, Under 12, Under 14 and Under 16 AFC Bournemouth girls' teams.
BU will also remain a Junior Cherries Partner for the new season and members of this popular club for AFC Bournemouth's younger fans will be invited to attend special events at the university with an educational aspect.
The partnership will continue to provide exciting opportunities for staff, students and the community throughout the academic year and football season, including joint community projects, placement and work opportunities - as well as BU having exposure to a global audience via the international reach of the Premier League, raising the profile of the opportunities Bournemouth offers as a place to study and work to both a national and international audience.
Alongside this, the BU men's and ladies' teams will continue to benefit from professional coaching from the AFCB Community Trust, while BU students will again have the chance to be match day ambassadors, with BU journalism students having the chance to work with the media operation at the Club, providing them with a great range of development opportunities.
BU academics from across the Faculty of Health and Social Science have also been working with AFCB's coaching and physio team, with BU's Dr Osman Ahmed collaborating with AFCB striker Jermain Defoe on an academic study. Dr Ahmed's work with AFCB Head of Sports Medicine, Dr Craig Roberts, and AFCB Head Physiotherapist, Steve Hard, was presented at the Isokinetic Conference in Barcelona in June.
BU's Orthopaedic Research Institute has also been working with AFCB's Community Sports Trust, and Professor Tim Rees has been working with AFCB's Head of Sport Science in developing a project around player load and injury. AFCB have also recently taken on a Multimedia Journalist and Video Editor from BU. Dr Andrew Callaway will be supervising Masters of Research student, Sean McCullagh, who is currently a Sport Scientist at AFCB.
A BU student has also recently presented the findings of his undergraduate dissertation at the European Academy of Sport Management. His thesis looked at how the success and commercialisation of AFC Bournemouth has created challenges for long-term fans of the club.
The popular BU Big Match will again take place around one Premier League home match, celebrating student and staff talent with the BU Big Band playing outside the ground before the match and a range of events taking place in the build-up to the game highlighting the educational opportunities that BU offers in the region.
Commenting on the new agreement, Jim Andrews, BU's Chief Operating Officer, said: "Bournemouth University have been partnering with AFC Bournemouth for a number of years now, and we're so proud of what the partnership has brought about; from opportunities for staff and students, to academic collaborations and community outreach, we've been working together to the benefit of both organisations, and Bournemouth as a whole.
He added: "We're also incredibly proud to see our local football team continue their Premier League journey, and we'll be supporting them all the way as the season progresses."
Rob Mitchell, AFC Bournemouth Commercial Director, said: "We are delighted to extend our partnership with Bournemouth University for the new season and academic year.
"Our close relationship offers Bournemouth University students the opportunity to support the club in a number of important projects and schemes, as well as providing internships and work placements across a range of departments.
"In addition, the university's continued support for girls' football and the Junior Cherries will bring mutual benefits and raise awareness of educational opportunities for future generations."
To mark the new partnership this year and the focus on girls' football development, representatives from the Under 10, Under 12, Under 14 and Under 16 AFC Bournemouth girls' teams met AFCB Defender Tyrone Mings and AFCB Commercial Director, Rob Mitchell, at Vitality Stadium.
To read more about BU's partnership with AFCB, visit: www.bournemouth.ac.uk/afcb